Stephen Sams Games Announces "Donut the Card Game" Kickstarter Campaign Launch
Press Release
•
Aug 1, 2016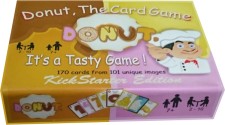 Newcastle, Australia, August 1, 2016 (Newswire.com) - ​In the week of Gen Con Indianapolis 2016 and following in the footsteps of Cards Against Humanity and Exploding Kittens, Donut is set to follow suit to become the next crowd-funded card game sensation.
This is the latest creation from Stephen Sams Games, which he co-created and developed with his 14-yr-old artist/designer daughter Heather and also with the help from a family friend graphic designer and digital artist Steve Dawson.
Stephen Sams, the game's creator says, "Donut ups the ante in family fun entertainment."
For 2-10 players aged 7+, Donut is the perfect recipe for hours of family entertainment. Featuring a deck of 101 unique images, Donut is a fast, fun, and colourful strategic card game that's easy to play and hard to put down and ready for its world debut.
The object of the game is to give the other players as many cards (Donuts) as you can whilst getting rid of all of your cards by playing them onto the discard pile (Crumbs) in the centre of play. 36 different card actions allow for attacking, defensive or neutral gameplay, inducing belly laughs abound as Donut leaves everyone chomping at the bit for more tasty donut action.
Choose a flavour and eat your way to victory!!!
Kick in today and help us make the Donut card game a reality. 1,000 exclusive limited edition boxes will be produced for our Kickstarter campaign which commences August 1st through August 31st.
Warning: Donut cards are not for internal consumption. (You can't eat them)
Kieran Wicks
Source: Stephen Sams Games
Additional Links