Stange Law Firm, PC Opening Family Law & Divorce Office in Wichita, Kansas in Sedgwick County
Press Release
•
updated: Jan 7, 2022
Stange Law Firm, PC, a divorce and family law firm with offices in Missouri, Illinois and Kansas, is proud and honored to announce the opening of their 17th office in Wichita, Kansas in Sedgwick County on February 1, 2018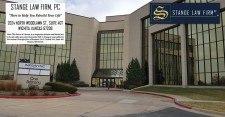 Wichita, Kansas, January 25, 2018 (Newswire.com) - Stange Law Firm, PC is opening their 17th office in Wichita, Kansas in Sedgwick County on February 1, 2018. Stange Law Firm, PC is a divorce and family law firm that currently has 16 other offices in Missouri, Illinois and Kansas. 13 of those offices are full-time office locations.
Stange Law Firm, PC exclusively practices family law because they know that when individuals are going through a divorce or family law matter, it can feel like their whole life is hanging in the balance. Not knowing what will happen to an individual or their family can cause a great deal of stress and anxiety. Divorce lawyers at Stange Law Firm, PC in Wichita, Kansas in Sedgwick County will understand their role and the importance of helping clients rebuild their lives.
Attorneys at Stange Law Firm, PC will also help clients with a variety of family law matters in Wichita, Kansas in Sedgwick County besides divorce matters. For example, the firm helps clients with matters such as child custody, child support, paternity, adoption, prenuptial agreements, juvenile matters, guardianships and other domestic relations matters.
Wichita, Kansas is the largest city in the State of Kansas. The firm presently has an office in Kansas City, Kansas in Overland Park where they assist individuals in divorce and family law matters. Opening a new office in Wichita will allow the firm to better serve the firm's clients and others in the State of Kansas.
Law Firm 500 has ranked Stange Law Firm, PC as one of the 100 fastest growing law firms in the country over the last 2-years. Attorneys at the firm have spoken for organizations such as the Missouri Bar, the National Business Institute, myLawCLE and other organizations. Several attorneys at the firm have also been listed by Missouri and Kansas Super Lawyers Magazine and Illinois Super Lawyers Magazine.
Stange Law Firm PC's Office in Sedgwick County is located at 2024 North Woodlawn Street, Suite 407, Wichita, Kansas 67208. The phone number is 314-202-2041. The new office opens for business on February 1, 2018. For more information, individuals can also call 855-805-0595.
Note: The choice of a lawyer is an important decision and should not be based solely upon advertisements. Kirk Stange, 120 South Central Avenue, Suite 450, Clayton, Missouri 63105.
Source: Stange Law Firm, PC
Related Media