Stange Law Firm, PC Opening Family Law and Divorce Office in Topeka, Kansas, in Shawnee County
Press Release
•
updated: Jan 7, 2022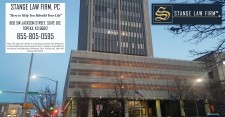 TOPEKA, Kan., January 31, 2019 (Newswire.com) - Stange Law Firm, PC is opening their 19th office in Topeka, Kansas, in Shawnee County on Feb. 1, 2019. This is a full-time office location. Stange Law Firm, PC is a divorce and family law firm that has 18 other offices in Missouri, Illinois and Kansas.
Stange Law Firm, PC exclusively practices family law because they know that when individuals are going through a divorce or family law matter, it can feel like their whole life is hanging in the balance. Not knowing what will happen to an individual or their family can cause a great deal of stress and anxiety. The divorce lawyers at Stange Law Firm, PC in Topeka, Kansas, in Shawnee County will understand their role and the importance of helping clients rebuild their lives.
Attorneys at Stange Law Firm, PC limit their practice to a variety of family law matters in Topeka, Kansas, in Shawnee County. In addition to divorce and separation, the firm helps clients with matters such as child custody, child support, paternity, adoption, prenuptial agreements, juvenile matters, modifications, guardianships, mediation, collaborative law, father's rights and other domestic relations matters.
The Topeka, Kansas, office will be the third office location in Kansas for Stange Law Firm, PC. The other offices in the state of Kansas include Wichita (Sedgwick County) and Overland Park (Johnson County). Opening an additional office in Kansas will allow Stange Law Firm, PC to better serve residents of Kansas in their divorce and family law matters.
Law Firm 500 has ranked Stange Law Firm, PC as one of the 100 fastest-growing law firms in the country over the last two years. Attorneys at the firm have spoken for organizations such as the Missouri Bar, the National Business Institute, myLawCLE and other organizations. Several attorneys at the firm have also been listed by Missouri and Kansas Super Lawyers Magazine and Illinois Super Lawyers Magazine.
Stange Law Firm, PC is also proud of the customer service they provide. For example, they give clients 24/7 access to their file online. The firm also gives clients the personal cell phone number of their attorney because they know that family law events often occur during non-business hours.
Stange Law Firm PC's Office in Shawnee County is located at 800 SW Jackson Street, Suite 812, Topeka, Kansas 66612. The phone number is 785-380-2382. The new office opens for business on Feb. 1, 2019. For more information, individuals can also call 855-805-0595.
Note: The choice of a lawyer is an important decision and should not be based solely upon advertisements. Kirk C. Stange is responsible for the content. Principal place of business: 120 South Central Avenue, Suite 450, Clayton, Missouri 63105.
Source: Stange Law Firm, PC
Related Media