St. Charles is Getting Ready for a Summer to Remember
Summer is Just Around the Corner
Press Release
-
updated: May 14, 2019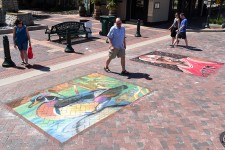 ST CHARLES, Ill., May 14, 2019 (Newswire.com) - The Greater St. Charles Convention and Visitors Bureau has long been a community-focused organization that offers unbiased information to various consumer groups that are looking to find hotel and entertainment information in the St. Charles area. Since its inception in 1983, the GSCCVB's focus has been to deliver qualified destination information to families, individuals, and groups that are looking to plan excursions into the St. Charles area.
Soon the weather will be rewarding us with sunshine and temps in the '70s. Those are great reasons to get outside and enjoy all that St. Charles has to offer. Hiking, biking, baseball watching, art fairs, concerts, and so much more.
St. Charles Fine Arts Show, May 25th & 26th, 2019, Located on Riverside Drive in St. Charles, IL. Sat 10-6pm, & Sun 10-5pm, for more information call 630-443-3969. The 21st Annual St. Charles Fine Art Show showcases the work of over 100 juried fine artists in mediums including Clay/Ceramics, Digital Art, Drawing/Illustration, Fiber (Non-Wearable), Jewelry, Photography, Glass, Mixed Media, Painting, Printmaking, Sculpture, and Wood. All are exhibited and available for sale during this outdoor and free-to-the-public event. The St. Charles Fine Art Show has built a reputation of presenting a diverse group of high-quality artists, and their work. The show attracts an audience of art lovers and buyers who come from the greater Chicagoland area and beyond. Check out our Facebook Page for photos and more!
Kane County Cougars Baseball, The 2019 season has started at Northwestern Medicine Field, For schedule and ticket information call 630.232-8811 or visit the team site online at info@kanecountycougars.com. That's right, America's national pastime right here in the Fox River Valley. As an affiliate of the Arizona Diamondbacks, the Cougars have continued to set a standard of excellence, both on and off the field. In 2014, the Cougars captured their second Midwest League Championship and set a team record with 91 regular-season wins. The following season, the Cougars welcomed their 11 millionth fan in franchise history, becoming the first Class-A team in Minor League Baseball history to reach the historic figure. As the only team with a Major League affiliation in Chicagoland, the Cougars provide the best in affordable and family-friendly fun across the area. So check out the schedule and plan a trip to the park!
Travel the bikeways of St. Charles, all summer long, Check out the trails in St. Charles Park District locations, either call 630-513-6200 or go online at stcparks.org. to find out all you need to know about the wonderful bikeways in the area. Are you looking to go over the river and through the woods? With many miles of hiking and cycling trails to choose from St. Charles has a lot to offer to the cycling and hiking enthusiast in you. If you really enjoy the great outdoors and being able to bike/hike your way from lagoons to forests and even a local restaurant or two, this is your lucky day. Look at all that St. Charles has to offer you and your cycling needs. Go online at stcparks.org for more information on all the trails!
If you are looking to make it a weekend Summer celebration and are in need of a place to stay, review GSCCVB's hotel list at www.visitstcharles.com. Grab a room at one of St. Charles' many fine hotels and take the opportunity to visit a few other events while you are in town.
Source: Greater St. Charles Convention & Visitors Bureau
Share:
---
Categories: Arts and Entertainment
Tags: Arts Show, Kane County Cougars, Midwest League, Minor League Baseball
---