Spring Fever is in the Air in St. Charles
St. Charles, Illinois, is Starting to Feel Like Spring is on the Horizon
Press Release
-
updated: Apr 1, 2019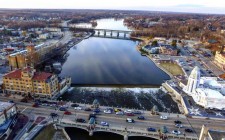 ST. CHARLES, Ill., March 29, 2019 (Newswire.com) - The Greater St. Charles Convention and Visitors Bureau has long been a community-focused organization that offers unbiased information to various consumer groups that are looking to find hotel and entertainment information in the St. Charles area. Since its inception in 1983, the GSCCVB's focus has been to deliver qualified destination information to families, individuals and groups that are looking to plan excursions into the St. Charles area.
It's almost time to hang up those winter coats, break down the doors and head outside for some fun in the sun. The season of flower blossoms, pastel colors, playoff basketball, the start of the baseball season and Easter egg hunting is upon us. The first day of spring was March 20 and everyone in the St. Charles area is celebrating.
Kane County Flea Market, April 6-7, 2019, 525 S. Randall Road, St. Charles, IL 60174, 630-377-2252. Spring welcomes everyone to the Kane County Flea Market. This is one of the longest-running, best antique and collectibles flea markets in the world. It has been the place for people to come and enjoy the fun of searching and finding the one thing they have sought for ages with hundreds of dealers inside, outside and under sheds. People say that if they made it, shoppers will find it at Kane. Saturday, 12-5 p.m., and Sunday, 7 a.m.-4 p.m. Stop by and enjoy the hunt for that next treasure under the fair skies of spring.
ABBA Salute at Mainstage Theater, Pheasant Run Resort, April 6, 4051 East Main Street, St. Charles, Il, 60174, 630.584.6300. The show begins at 8 p.m. The ABBA Salute is quite literally the most accurate tribute to the band in the country. With painstaking attention to detail, they have recreated an ABBA experience that won't soon be forgotten. Fronted by two dynamic ladies with angelic voices and backed by a group of world-class musicians, the music of the greatest pop band in history comes to life in a Las Vegas style-show that mesmerizes the viewer, young and old alike.
St. Charles Community Garage Sale, April 26-27, 2019. Various residential areas in St. Charles, 630-513-4321. Spring seems to be the month for garage sales and this is a huge one. This is a great opportunity to walk the neighborhoods and find some hidden treasures. Call the teen center at 630-513-4321 and find out all about the neighborhoods bargain hunters should visit. There will also be an address listing of participating homes in a promo guide, distributed throughout the community and online at stcunderground.com and stcparks.org. Take the family out for an adventure during the day and grab a meal nearby when everyone finishes up. Why not spend the night and make a weekend of it?
For anyone looking to make it a weekend spring celebration and are in need of a place to stay, check out GSCCVB's hotel list at www.visitstcharles.com. Grab a room at one of St. Charles' fine hotels and take the opportunity to visit a few other events while in town.
About the Greater St. Charles Convention and Visitors Bureau (GSCCVB)​
The Greater St. Charles Convention and Visitors Bureau is funded by the Illinois Office of Tourism and a portion of the hotel/motel tax collected by St. Charles hotels is used to promote Greater St. Charles as a destination for leisure tourists, meetings and conventions, sports events and motor coach trips. For additional information regarding the bureau's marketing and sales activities, contact the bureau at 630-377-6161 or 800-777-4373 or www.visitstcharles.com.
Photo Courtesy of Daniel Ploesser
Source: Greater St. Charles Visitors and Convention Bureau
Share:
---
Categories: Travel, Transportation, and Hospitality News
Tags: abba, flea market, garage sale, hotel, lodging, spring fever
---