Spring Hill Nurseries Introduces 'Ready-to-Grow' Clematis
Press Release
•
updated: Mar 19, 2020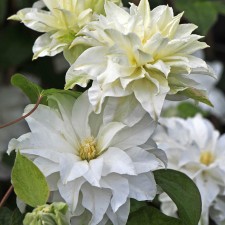 TIPP CITY, Ohio, March 19, 2020 (Newswire.com) - ​​​Clematis are popular plants in gardens around the world because they are prized for their gorgeous flowers. Yet they have a reputation as being difficult to grow. But a new line of Ready-to-Grow Clematis plants from Spring Hill Nurseries is out to change how people think about clematis.
Ready-to-Grow Clematis plants quickly become established in gardens, and they offer improved flower power over other clematis. These plants arrive with stronger root systems to reduce transplant shock and include varieties bred for improved flower production.
Spring Hill Nurseries has partnered with clematis expert Deborah Hardwick to help introduce Ready-to-Grow Clematis plants and educate gardeners on the best practices for planting and caring for clematis. Ms. Hardwick is a renowned clematis expert who grows 1,400 different varieties at her demonstration gardens in central Ohio.
"A clematis in full flower is a delight in any garden setting," said Hardwick. "I partnered with Spring Hill Nurseries to share my love of these plants and educate gardeners on the best ways to successfully grow them. Plus, I want to help bring new and under-used clematis varieties to gardeners so they can enjoy them as much as I do."
OUTSTANDING NEW CLEMATIS VARIETIES
One of the newer varieties Hardwick is most excited about is Maria Sklodowska Curie Clematis, an easy-to-grow variety that produces a profusion of large double-petalled white flowers. It is cold hardy to USDA zone 4 (-25 degrees F.) and flowers in early to mid-summer. Maria Sklodowska Curie Clematis was bred by renowned clematis breeder Szczepan Marczyński, and it was recently featured on a Polish postage stamp.
Another new variety is Clematis 'Chloe,' a bushy, non-vining variety that looks more like a hedge than a traditional clematis. The plant is covered with purple-blue flowers in late spring and early summer. Not only is it a strong bloomer the first time around, it's a great rebloomer. Prune it back after flowering, and it will grow back for another spectacular show of blooms in early fall. 'Chloe' was bred by Hazel Mei Lan in Hong Kong, and it is quite heat tolerant and hardy. It grows in USDA zones 4-9.
"The new clematis varieties I have selected for Springhill Nurseries, and the classic varieties now being offered with the larger Ready-to-Grow root systems, offer gardeners a wonderful opportunity to grow some extraordinary plants," said Hardwick.
DEBUNKING CLEMATIS MYTHS
According to Hardwick, several myths abound regarding clematis in the garden, including the myth that they are difficult to grow. She says it's important to give clematis adequate water during the growing season. A thick layer of mulch to cover the soil surface will help keep clematis roots from drying out.
To read more about common misconceptions about clematis and Hardwick's growing tips, read Debunking Clematis Myths
Ready-to-Grow Clematis plants are available from springhillnursery.com. Plants are shipped after the last frost date so they can be planted in the garden soon after arrival.
Source: Spring Hill Nurseries
Additional Links