Spring Cleaning Survival Guide From 'Mom on the Run' Colleen Burns on Tips on TV Blog
Press Release
•
updated: Apr 20, 2018
Author Colleen Burns Explains Why Moms Rule the World and How They Can Survive Spring Cleaning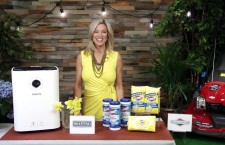 ATLANTA, April 20, 2018 (Newswire.com) - Colleen Burns is a successful reporter and an Emmy-Award winning show producer. Now, Colleen has another demanding job as the mother of six boys all under the age of 21. How does she do it? Colleen reveals her spring cleaning tips and gives some creative suggestions that are so easy, the whole family can get involved.
A GOOD PLACE TO START FOR SPRUCING UP THE HOME IN SPRING
There are few rituals more satisfying than spring cleaning. Whether it is scrubbing through grime to reveal a sparkling surface, or perfectly organizing the pantry, there is just something oddly satisfying about a deep clean. Spring cleaning provides an opportunity for everyone to partake in all of their favorite cleaning tasks that they do not have time for in their everyday life and there is no Spring Clean without Clorox® Disinfecting Wipes Ultra Strength. Three times stronger than a wet paper towel to outlast tough messes, the new design includes tough blue fibers and grime-catching ridges to tackle the toughest of messes. They are a must-have and a good place to start with your deep clean this spring. For more information, visit www.clorox.com.
WHERE TO START WHEN TENDING TO THE OUTSIDE OF A HOME
Mowing technology has come a long way in the last 5 years so this spring, renew that lawn care routine with a lawnmower equipped with Briggs & Stratton's newest engine innovations. Just Check & Add eliminates oil changes, Mow N' Stow makes storage easy, InStart means never having to pull a rope again and Quiet Power Technology allows for work without bothering the neighbors! It is great because it allows for consumers to get the job done faster and worry less about maintenance. For more information, visit www.betterwithbriggs.com.
SPRING IS A GOOD TIME TO UPDATE APPLIANCES
Now is the perfect time to update home appliances as May is Maytag Month! From May 3 to June 6, Maytag is offering great deals on powerful appliances, like the Maytag French Door Refrigerator with PowerCold, which chills the fridge quickly to help keep everything inside cool, even if someone has been browsing with the doors open. It also has an easy-to-clean, fingerprint-resistant stainless-steel finish that keeps it looking as good on the outside, as it works on the inside. Be sure to check out Maytag.com/MayIsMaytagMonth to learn more about the deals!
SOME TIPS TO HELP FAMILIES BREATHE EASIER THIS SPRING
Spring sprucing is not just about cleaning the things that are visible. Just as important are the things that are not so visible. The air can be filled with allergens that can be dangerous to everyone this time of the year because of allergies. Now to help there is a brand-new Philips Air Purifier Series 5000i. Philips is one of the global leaders in air purifiers, that helps families improve the air quality in their home. It can capture 99.97 percent of allergens, like pollen and dust mites that pass through its six filters. The Series 5000i uses two air quality sensors to enable smart modes like the Virus Mode or Allergen Mode. An Air Matters app lets consumers control air remotely and alerts them with real-time color changes when allergen levels change. Sleep better with the help of cleaner air at night! For more information, visit www.philips.com.
Contact: tipsontv@gmail.com
Source: Tips on TV
Related Media