Sport Karate Phenom Takes Home Two National Grand Championship Titles on Greatmats
Press Release
•
updated: Jul 20, 2018
Infinity National Championships Featured Champion Haley Glass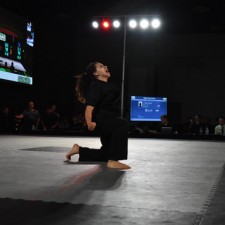 WISCONSIN DELLS, Wis., July 20, 2018 (Newswire.com) - Having trained in the martial arts more than half of her life, Haley Glass has made a name for herself using her nine years or martial arts training (Shotokan Karate, Taekwondo, and Jiu-Jitsu) on the world stage. By age 11, she found herself auditioning for the 2015 season of "America's Got Talent" where she made it to the top 50. By age 13, she landed a role in the 2017 film "Logan" alongside superstar Hugh Jackman and fellow child prodigy Dafne Keen.
"America's Got Talent" & Logan
To perform in one of the biggest stages in the world in front of millions was pretty scary and exciting at the same time.

Haley Glass, Martial Artist/Actor
"It was a very surreal experience," Glass said of performing on America's Got Talent. "To perform in one of the biggest stages in the world in front of millions was pretty scary and exciting at the same time. ... When Howie Mandell judged me, he said that he would look for me in a movie, and two years later, I landed the role in 'Logan.' ... At first, I couldn't believe I was chosen to be a stunt and mutant kid. It was a lot of work and very very long hours working with the production team, but an experience I will never forget. I met some pretty amazing people on set who I now consider family. I have so much respect for everything that goes on behind the scenes and into making such a huge production.
"Working with Hugh Jackman and Dafnee Keen was amazing. They are very nice, down to earth and funny. I can't wait to work on my next film."
Infinity National Championships
In the meantime, Glass is putting in the work behind the scenes in to further her martial arts career as she prepares to test for her second-degree black belt in Taekwondo this December. Training under nine-time world champion Hakim Walker, Glass represents Florida Sports Martial Arts Academy of Orlando, Florida, while competing all across the country at least twice per month while mixing in teaching seminars to the martial arts community.
Among those competitions was a trip to Wisconsin Dells, Wisconsin, where she competed in the Greatmats-sponsored 2018 Infinity National Championships and won all five divisions in which she competed:
Traditional Forms,
Traditional Weapons,
Point Sparring,
CMX (Creative, Musical and Extreme) Forms, and
CMX Weapons
Glass also won the title of Grand Champion in both Traditional Weapons and CMX Weapons.
"I loved the location," she said of the Infinity National Championships. ''It was my first time at the Kalahari Resort, and it was awesome to have it all in the same location as the event. I loved how organized the event was, everything ran on time and smooth. Oh! And the awards were very nice and creative. Different than the standard trophy."
Heart & Mind of a Champion
Glass got her start with after-school karate classes at a local community center, and her love of the sport has continued to grow as she works towards her goal of competing in the Olympics.
"Every time I step in the dojo, I always go in with a white belt mindset," she says. "There is always something new to learn and improve on. ... I want to continue to inspire other martial artists never to give up and stay committed. My instructor has always taught me to be successful you have to stay committed. It takes hours of hard work, dedication sacrifice, and love for what you do. This is something I not only apply in martial arts but also in school and life."
Source: Greatmats
Related Media