Greatmats Provide Comfort and Safety for Extreme Bodyshaping at Farrell's
Press Release
•
updated: Dec 30, 2019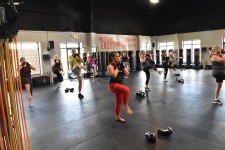 HUDSON, Wis., December 30, 2019 (Newswire.com) - When Farrell's Extreme Bodyshaping opened its doors in Hudson, Wisconsin, in April of 2018, owner Christine Barnes was confident she had the right flooring. Equipped with Greatmats' 1-inch thick martial arts mats, her kickboxing, strength training and nutrition gym was following the preferred path of the 75-gym strong Farrell's franchise chain.
"Corporate had done a lot of research, and they came across Greatmats," Barnes said. ''Then we brought them up here to Hudson.''
Farrell Extreme Bodyshaping became a franchise in 2007 and began incorporating Greatmats martial arts mats into its gyms by 2010. It now uses the fitness flooring at its locations in at least nine states.
That corporate research paid off for Barnes.
"I had great service - customer service - satisfaction," she said in working with Greatmats.
And as for the mats themselves, she says, "They clean up easy. They look great. So we're just super excited to have them on our floors."
Barnes likes the fact that they are "a little bit on the cushy side" compared to most traditional gym flooring.
"We do a lot of up and downs. We do a lot of ab work on the mats, so it's great. People don't injure themselves."
And with kickboxing being a big portion of the gym's program, she appreciates the fact that they allow a lot of foot movement without being slippery. Her clients are able to use the mats with or without shoes with equal success.
"They're just really comfortable on the bottom of your feet," Barnes says.
Barnes began as a Farrell's member in 2015 and moved up the chain to coach, instructor and, eventually, owner.
"I love the program," she said. "Farrell's Extreme Bodyshaping has helped over 150,000 people transform their lives. Over $2 million has been awarded in prize money for people that have their best overall transformation."
Source: Greatmats.com
Additional Links