Spiff Wins G2 Leader Award for 'Best Sales Compensation Software' in Both Winter (Q4) and Spring (Q1) While Growing 500%
Press Release
•
updated: Apr 14, 2020
In the last six months, Spiff has quintupled revenue, growing 500% while earning the coveted G2 Leader award for Best Sales Compensation Software in both Winter (Q4) and Spring (Q1).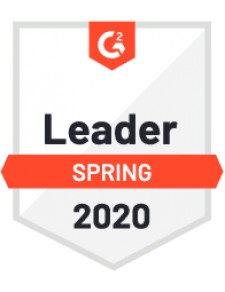 SALT LAKE CITY, April 14, 2020 (Newswire.com) - ​​​​​​​​​When you run an agile business with the right people, mindset, and goals, it's amazing how fast you can grow while still delighting customers.
Take commission software startup, Spiff, for example.
In the last six months, Spiff has quintupled revenue, growing 500% while earning the coveted G2 Leader award for Best Sales Compensation Software in both Winter (Q4) and Spring (Q1).
G2 is a software review platform where companies appraise business applications. It's both a place to discover tools and a pinboard for sharing customer experiences. The Leader award recognizes platforms with consistently great feedback, and to win it twice while quintupling revenue is a particularly compelling milestone.
"We're delighted to be named Leader for two consecutive quarters," said Spiff founder and CEO Jeron Paul. "We've hit a nerve in sales teams across the country and are growing at a phenomenal rate. This award is another endorsement of our hard work from customers and we're going to continue pushing for better commission management across every team in the world."
Spiff automates commissions for businesses of all sizes, saving them time and money, and motivating sales teams. Around the world, millions of salespeople still slug away on spreadsheets that lack the clarity and flexibility needed to do their jobs effectively. It's a pervasive problem, and these wasted hours hit bottom lines.
Spiff replaces spreadsheets with a powerful yet intuitive platform that seamlessly integrates with existing software and systems to enable commission visibility in real-time. With drag-and-drop logic for most situations out-of-the-box, you can set up a commission plan in hours. Everything is automated, and most importantly, transparent, so sales teams can track their performance in a single click.
For Jeron Paul, it's all about making people's lives easier and saving resources.
"Commissions should incentivize sales, not burden employees with tedious calculations every month," said Paul. "Our customers are often surprised by how much time is saved and how much top-line revenue grows through the power of motivation. It benefits everyone from the staff on the road to the people in accounts right up to the owner of the business who now has happy, motivated sales teams."
A quick glance through Spiff's G2 reviews reveal a collective sigh of relief, a testament to the software's impact on employees' lives. Many praise Spiff for its simplicity and flexibility, and for eliminating the time spent arguing with finance or sales operation teams over monthly figures. It's this dedication to helping sales teams that Matt Stapleton, Spiff's Chief Operating Officer, believes has earned Spiff its G2 Leader status.
"Commission plans have long roots that touch almost every part of a business," said Stapleton. "We work with fantastic companies who are often growing faster than they're able to keep up without Spiff. They need a flexible system that's able to both model the custom nature of their actual logic and change quickly when their priorities change. Being able to make those adjustments when needed lets firms work better with their sales teams to maintain a more motivated and productive team.
The problem with commissions is a software one, argues Stapleton. "With error rates in excess of 80%, Excel is unreliable, and can't scale as the business grows, and other vendors rarely get the user experience right." Spiff's response was to build a solution that was flexible, scalable, and intuitive – an ideal package for high-growth businesses – and clients are ecstatic.
"We love reading our reviews," said Paul. "They help us know we're on the right track, as well as guide our product roadmap. It's easy to rest on your laurels when things go well, but we're always asking how we can improve, how we can make our clients and their teams better at their jobs, how we can help them succeed. This mindset has been a big part of our success so far."
Spiff is a prime example of what can happen when you prioritize customer happiness, or success, over targets. Since launch in 2018, Spiff has successfully raised $6M in funding and counts Podium, Lucid, and Weave in its roster of high-growth clients. With two G2 Leader awards now under its belt, Spiff proves you don't have to sacrifice service to achieve exceptional growth.
About G2
G2, the world's leading business solution review platform, leverages more than 1,000,000+ user reviews to drive better purchasing decisions. Business professionals, buyers, investors, and analysts use the site to compare and select the best software and services based on peer reviews and synthesized social data. Every month, more than three million people visit G2's site to gain unique insights. https://www.g2.com
About Spiff
Spiff is a leading sales commission platform that automates commission calculations and motivates teams to drive top-line growth. Combining an intuitive UI, real-time visibility, and code-less set-up, Spiff is the first choice among high-growth businesses. https://www.spiff.com
Source: Spiff Inc.
Related Media