Spiff Leads G2's Mid-Market Grid for Best Sales Compensation Software
Press Release
•
updated: Jan 2, 2020
According to G2's latest Grid Report, Spiff's customer-first strategy has paid off and the company now tops the charts across multiple categories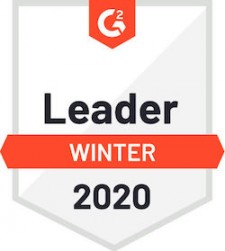 SALT LAKE CITY, November 11, 2019 (Newswire.com) - ​​​​​In the crowded commission software market, vendors have to work hard to win and retain customers. For Spiff, a sales compensation and incentive platform founded in 2017, that means delivering an experience so good customers can't bear leaving. According to G2's latest Grid Report, Spiff's customer-first strategy has paid off and the company now tops the charts across multiple categories.
G2 is a software review platform with almost one million validated reviews across thousands of products and services. Every quarter, the G2 team assembles the top-rated solutions in the Grid Report and ranks them according to customer opinion. The Grid Reports are, therefore, a key litmus test for validating the success of customer experience campaigns.
"We're absolutely delighted by our customers' feedback," said Jeron Paul, Spiff's founder and CEO. "Commission planning has long been a headache for firms of all sizes, and we've always had one simple goal – take that pain away. The Fall Grid Report shows we're on our way to achieving that and the team and I couldn't be happier."
Spiff recently raised $6 million in VC funding to transform the way people calculate commissions around the globe. Millions still use Excel for complex commission structures, wasting hours of time and expense on error correction. Competing commission platforms regularly fail too, argues Paul, who believes dedicated software is just as bad if nobody understands how to use it.
"Most of the time, the problem with commission planning isn't the plans themselves but the tools used to build them," said Paul. "Excel isn't scalable or purpose-built for commissions. A lot of purpose-built commission software is too clunky or obscure to make life easier for the people using it. Commission planning isn't an exact science, so the simpler we can make the process and execution, the better our customers' plans will be."
Spiff is one of the highest-rated compensation platforms on G2. Customers frequently praise the platform for its ease of use, transparency, and the hours its saved finance and sales teams who were previously using Excel or other software. The Fall Grid Report is further evidence of the hard work of Paul and his team. With Spiff, the tedium of sales compensation might finally be over.
"Commissions are supposed to motivate teams, not give them headaches," said Andrew Gazdecki, Spiff's Chief Growth Officer. "We're thrilled our customers agree that with Spiff, everyone from the sales reps to the CFO can be one big happy motivated team."
About G2
G2, the world's leading business solution review platform, leverages more than 987,200 user reviews to drive better purchasing decisions. Business professionals, buyers, investors, and analysts use the site to compare and select the best software and services based on peer reviews and synthesized social data. Every month, more than three million people visit G2's site to gain unique insights. https://www.g2.com
About Spiff
Spiff is a leading sales commission platform that automates commission calculations and motivates teams to drive top-line growth. Combining an intuitive UI, real-time visibility, and code-less set-up, Spiff is first choice among high-growth businesses. https://www.spiff.com
Source: Spiff Inc.
Related Media
Additional Links