SparkCharge Partners With Allstate, Spiffy, Mark Cuban, and Others to Launch BoostEV, the World's First On-Demand Mobile EV Charging Network
Press Release
•
updated: Feb 23, 2021
BoostEV gains big partners in making electric vehicle ownership and charging more convenient.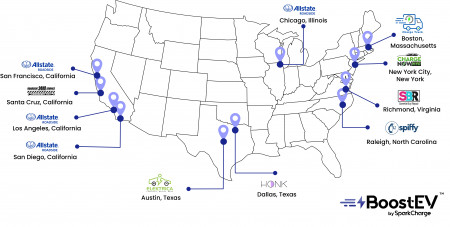 BOSTON, February 23, 2021 (Newswire.com) - Companies big and small are partnering with SparkCharge to create the world's very first on-demand and mobile electric vehicle charging network. Now, with just the push of a button via SparkCharge's BoostEV smartphone app, electric vehicle owners can access this new network and have a charge delivered directly to their vehicle. It's quick, convenient, and contact-free.
Forward-thinking companies like Allstate Roadside, Spiffy, and others, have teamed up with SparkCharge to service electric vehicles in a way that has never been done before. Now, these companies can provide electric vehicle owners with a quick and convenient charging service by delivering a portable Roadie charging system to any location the driver desires. This service eliminates the need to rely on existing, non-mobile, electric vehicle charging infrastructure.
BoostEV Charging as a Service (CaaS) is now available in select cities such as Austin, Boston, Chicago, Dallas, Los Angeles, New York City, Raleigh, Richmond, VA, San Diego, San Francisco, and Santa Cruz.
"We're building a completely new type of EV charging infrastructure," shared SparkCharge CEO, Josh Aviv. "It's mobile, on-demand and, for the first time, truly gives EV owners freedom and control to charge their car anytime, anywhere by ordering the service through the Boost EV app. Just like food delivery, EV owners can now have range delivered to them on the spot. When people think about EV charging, we know BoostEV will be top of mind for them."
SparkCharge's revolutionary electric vehicle charging network has already captured the attention of innovative, customer-centric companies. "Our relationship with SparkCharge supports our commitment to providing innovative solutions and a circle of protection for customers," said Joan Trach, Allstate Roadside Chief Operating Officer. "With SparkCharge, Allstate Roadside is able to protect more customers by expanding roadside service and protection to those with electric vehicles. No matter what type of vehicle you drive, Allstate Roadside is there for you."
"When SparkCharge appeared on Shark Tank, I knew they were on the cusp of something game-changing, and this is it. They have created a new, innovative EV charging infrastructure that eliminates the stress of range anxiety for all EV owners. The EV market is growing so fast and having a network completely free from the legacy issues of old infrastructure is huge. As an electric vehicle owner myself, getting my car charged while I do other things is priceless," said Mark Cuban, serial entrepreneur, and SparkCharge investor.
With other states joining Massachusetts and California's ban of new gas vehicle sales starting in 2035, the growing demand for electric vehicles is accelerating rapidly. The lack of needed infrastructure to support this growth has made mobile (non-grid reliant) charging a necessity to accelerate the momentum for EV adoption.
Companies like Spiffy are innovating by joining SparkCharge and offering BoostEV as a charging service alongside their mobile car wash and detail, disinfection, tire changing and other mobile maintenance services. "Delivering convenient, trusted, professional, and green car care directly to our customers is what Spiffy is all about," said Spiffy VP of Marketing, Grayson Leverenz. "SparkCharge aligns beautifully with our values and helps us delight our customers with outstanding EV charging experiences. We are excited to be on this journey with them."
"The wait and see approach to consumer demand for EV charging is no longer viable for companies in the automotive world. Some major automotive and service provider companies still don't have a plan for EV charging. I truly believe that mobile, on-demand charging will grow the EV market exponentially. This is just the start of the charging revolution. We're building amazing programs that utilize BoostEV with large OEMs, utilities, fleet, hospitality, and several other industries," said Aviv. "Being involved with great companies like Allstate Roadside, Spiffy and others means that our BoostEV service will be a fast-growing, green staple for EV drivers for years to come."
To learn more about SparkCharge and cities that offer the BoostEV service, visit www.SparkCharge.io.
About SparkCharge:
SparkCharge was founded in 2017 by CEO Joshua Aviv, with the goal of building and growing the world's largest mobile electric vehicle charging network. This network is now a reality due to three key factors: hardware, software, and partnerships. The Roadie Charging System is a portable, powerful, modular charging solution that makes DC fast charging possible anywhere regardless of infrastructure. The app BoostEV allows EV drivers to request a charge delivery right to their vehicle. SparkCharge partners then provide on-demand charging as requested on BoostEV via the Roadie Charging System, the world's only portable charging network.
Source: SparkCharge