Spare and Uber Partner to Enhance Public Transit
Press Release
•
Jun 1, 2023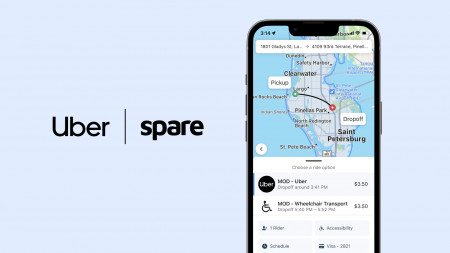 VANCOUVER, British Columbia, June 1, 2023 (Newswire.com) - Spare and Uber, industry leaders in transportation, announce a transformative partnership that integrates Spare's cloud-based on-demand transit platform with Uber's extensive driver network. This collaboration empowers transit agencies to enhance microtransit and paratransit services using Uber's network. Large-scale deployments have already been successfully launched in Pinellas Suncoast Transit Authority (PSTA) and Dallas Area Rapid Transit (DART), proving the effectiveness of this partnership.
"This is a significant milestone in our mission to make transportation more accessible," Spare's CEO, Kristoffer Vik Hansen, said. "Our partnership with Uber has made it possible for more people to access public transportation services. We're thrilled to see the positive impact our combined efforts have had at PSTA and DART."
The incorporation of Uber into Spare's platform, facilitated by Spare Open Fleets™ technology, provides transit agencies with real-time monitoring capabilities and a single view of their entire fleet. The industry-leading partnership will provide transit agencies with the flexibility to effectively and efficiently handle both peak and traditionally challenging off-peak hours, marking a significant advancement in transit services.
"Together, Uber and Spare are driving change and helping to shape a more accessible future for all riders," General Manager of Uber Transit, Jen Shepherd, said. "Our collaboration with Spare has already achieved substantial results. PSTA has further strengthened its command of paratransit operations, while DART has significantly expanded its microtransit capacity."
At PSTA, the partnership has enabled the launch of the PSTA Mobility on Demand (MOD) service within the Spare platform. With PSTA MOD, ADA-eligible riders can now book on-demand rides whenever and wherever they need them.
"We are changing people's lives by providing them with greater mobility and independence. This collaboration has introduced a new dynamism to our transit services," says Brad Miller, CEO of PSTA. "Leveraging Uber's network and Spare's groundbreaking platform has enabled us to provide more convenient and flexible transportation options for our riders."
At DART, the partnership has provided them with the capacity to significantly expand the operational hours of its award-winning on-demand microtransit service, GoLink. Now, GoLink is available from 5 a.m. to midnight, seven days a week, in over 30 zones, delivering over 2,000 rides per day.
"Our partnership with Uber and Spare has proven to be a game-changer for the agency's continued efforts to increase microtransit service across North Texas," said Nadine Lee, President & CEO of DART. "We've witnessed firsthand the increased capacity and effectiveness of our GoLink service. The synergy between these two great companies offers a promising glimpse into future opportunities for public transportation agencies."
By integrating Uber into their services through Spare, transit agencies can significantly reduce operational costs. This strategic move eliminates the need for hefty investments in additional fleets to increase capacity, thereby delivering more cost-effective transportation solutions. The Spare-Uber partnership effectively optimizes resource utilization while ensuring transit agencies can meet the rising demand for services.
###
About Spare
At Spare, our mission is to make every ride possible. We empower transit agencies to launch microtransit and modernize ADA paratransit services, optimizing operations and enhancing rider experiences. Spare Open Fleets™ integrates any bookable fleet into on-demand transit services for flexible capacity without capital-intensive vehicle investments. With hundreds of services powered worldwide, we are shaping the future of mobility-one ride at a time.
About Uber
Uber's mission is to create opportunity through movement. We started in 2010 to solve a simple problem: how do you get access to a ride at the touch of a button? More than 39 billion trips later, we're building products to get people closer to where they want to be. By changing how people, food, and things move through cities, Uber is a platform that opens up the world to new possibilities.
Source: Spare