Space Tea Is Now Available at Sprouts Farmers Market Locations Nationwide
Press Release
•
Feb 14, 2023
The premium iced tea and lemonade blend is now available at over 380 Sprouts locations across the United States.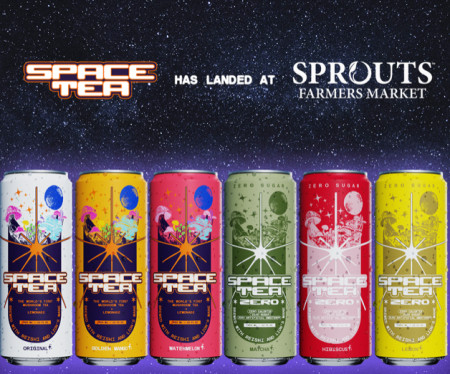 LOS ANGELES, February 14, 2023 (Newswire.com) - Space Tea®, the world's first adaptogenic mushroom iced tea and lemonade beverage, is pleased to share its continued growth — announcing it is now available at Sprouts Farmers Market locations nationwide. All six Space Tea flavors, Original, Golden Mango, Summer Watermelon, Lemon Zero, Hibiscus Zero, and Matcha Zero are available at over 380 Sprouts locations across the United States.
Headquartered in Phoenix, Arizona, Sprouts is one of the fastest-growing retailers in the country, with over 130 retail locations in Space Tea's home state of California alone.
"We are extremely excited to partner with Sprouts and honored to call them our first national retail partnership," said Gabriel Heymann, Co-founder of Space Tea. "Space Tea is full of high-quality ingredients used for centuries to promote focus and mental clarity. Our latest expansion enables more people to experience the potential benefits of Reishi and Lion's Mane mushroom in an amazing tasting beverage format, and we are proud to lead the industry in this way."
According to Research and Markets' Functional Beverages Global Market Report 2021, the size of the global functional beverage market was estimated at nearly $130 billion in 2021 and is expected to reach $173.23 billion in 2025 at a CAGR of 7%.
Space Tea first launched at Los Angeles' Erewhon Market in August 2021, where it quickly became a bestseller. Since then, it has garnered a substantial following across Southern California. Space Tea is also available at Bristol Farms, Earthbar, Lazy Acres, Mother's Market and Sun Life.
Space Tea is certified organic, non-GMO, gluten-free, and kosher.
To learn more about Space Tea, visit spacetea.com or Instagram at instagram.com/spacetea. Contact Space Tea via email at sales@spacetea.com.
About Sprouts Farmers Market, Inc.
True to its farm-stand heritage, Sprouts offers a unique grocery experience featuring an open layout with fresh produce at the heart of the store. Sprouts inspires wellness naturally with a carefully curated assortment of better-for-you products paired with purpose-driven people. The healthy grocer continues to bring the latest in wholesome, innovative products made with lifestyle-friendly ingredients such as organic, plant-based and gluten-free. Headquartered in Phoenix, and one of the largest and fastest-growing specialty retailers of fresh, natural and organic food in the United States, Sprouts employs approximately 31,000 team members and operates approximately 380 stores in 23 states nationwide. To learn more about Sprouts, and the good it brings communities, visit about.sprouts.com.
About Space Tea
Space Tea® is the world's first mushroom tea and lemonade featuring a refreshing and classic blend of iced tea and lemonade. Its mission is mental wellness through music, meditation and mushrooms. Space Tea is brewed with functional, adaptogenic Reishi and Lion's Mane mushrooms, which have been studied extensively for their effects on energy, focus and memory. Learn more about Space Tea on Instagram at instagram.com/spacetea.
Source: Space Tea
Related Media