Southern California Yachting Company Announces Special Pricing for Summer 2018
Southern California Yachting is preparing a special pricing for those looking to rent a luxury yacht this summer. Their fleet covers San Diego, Newport Beach, Marina Del Rey and Los Angeles.
Press Release
-
updated: Jul 5, 2018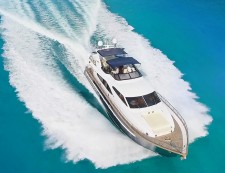 LOS ANGELES, July 5, 2018 (Newswire.com) - Summertime is here and people in Southern California are looking for alternatives to their leisurely adventures. Southern California Yachting, feature special pricing for their yacht rentals in Los Angeles, San Diego and Newport.
Southern California Yachting is a well-known local name when it comes to private and luxury yacht charters and rentals. The company boasts the most diverse fleet in Southern California, which can be booked online through their website. Southern California Yachting also provides units for filming, birthdays, weddings, corporate events and scenic trips.
"Our clients come from a variety of backgrounds across the globe for many different events," says Logan Hofkamp, owner of Southern California Yachting. Many of their luxury units have been featured in major Hollywood super productions and corporate events for important local firms. "You'll be surprised at the positive effect such a yacht cruise can have on your employees, which will show in increased productivity and better bonding between them," says Mr. Hofkamp.
The Marina Del Rey yacht rental service at Southern California Yachting includes embarkations like the 72′ Princess Express, 68′ Sunseeker Predator, the 122′ Talos and one of their biggest yachts: the 143′ Sun Coast Leight Star. Pricing for each unit can be found at their correspondent page on Southern California Yachting website, along with detailed pictures and information of each boat. Their Los Angeles and San Diego fleet share the same high level and can also be booked online.
For those who don't necessarily want to drive a yacht nor traveling to a specific location, Southern California Yachting also provides tours to several locations in Southern California and Mexico, including the Catalina Island, Santa Cruz Island, Paradise Cove and Malibu. The luxury yachts the company provides can be used in such paradisiac tours.
Pricing for private yacht charters ranges from $3,500 to $120,000 per week. Time availability goes from 3 hours to 2 weeks. Units can be booked directly on Southern California Yachting website, filling out their contact form, calling (310) 341-7961 or sending an email to book@southerncaliforniayachting.com.
Source: Southern California Yachting
Share:
---
Categories: Recreation and Sports
Tags: ca, ca yacht charters, los angeles, los angeles yacht rental, luxury yacht charters los angeles, newport beach yacht rental, private yacht charters los angeles, yacht charters los angeles, yacht rental los angeles, yacht rental newport beach, yacht rentals los angeles
---