South Korean Startup, BPM Inc., Looks to Challenge Traditional Audio Devices With Their Kickstarter Launch for Run-Up
Run-Up is a sports audio wearable that features a headband design and miniaturized dynamic speakers that have been optimized for use while playing sports or engaging in other physical activities.
Press Release
-
updated: Sep 1, 2020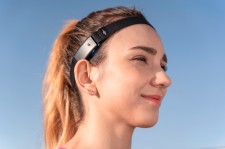 SEOUL, South Korea, August 26, 2020 (Newswire.com) - Although there are some audio devices that have been designed for use during physical activities, the BPM team realized that there were still many shortcomings in regards to design and function. This led the company to develop a new type of audio device that would provide additional value for people who lead active lifestyles. This led to the creation of BPM Inc.'s flagship product, Run-Up, which is scheduled to launch soon on Kickstarter.
Run-Up features a headband design with a snug fit that is made from sweat-wicking cushioned material that keeps its users dry and cool no matter how long they are engaged in sport or any other physical activity. The dynamic sports audio-wear also has a dynamic speaker that is located on the side of the headband. Unlike some other products that feature bone conduction technology, the Run-Up open-ear audio system delivers audio directly to the ear with minimal sound leakage. This allows Run-Up users to enjoy their song of choice while at the same time being aware of their immediate surroundings.
In order to create a more holistic device, Run-Up also contains a dual microphone system that includes noise reduction during calls so that the users can be heard clearly no matter what environment the person is in. All of these technologies are seamlessly integrated and work in sync due to the Qualcomm® Bluetooth 5.0 chipset with NDA.
BPM has announced that Run-Up will be unveiled through Kickstarter and is scheduled to launch on Aug. 31, 2020 at 9:00 p.m. PST. For more information on Run-Up, please refer to the product's Kickstarter page once the campaign goes live.
Individuals interested in backing Run-Up can get access to exclusive Kickstarter early bird reward prices by subscribing for BPM's newsletter through the company website or through the Run-Up Kickstarter campaign.
Source: BPM Inc.
Share:
---
Categories: Entrepreneurship
Tags: audio wear, bpm, bpm inc., crowdfunding, kickstarter, run-up, soundwear
---