Solar Therapeutics and Clear Path for Veterans New England Announce Partnership During Month of November and Beyond
Press Release
•
updated: Nov 10, 2020
Massachusetts-based Cannabis Manufacturer Partners with New England Veterans Advocacy Organization to Help Raise Awareness and Support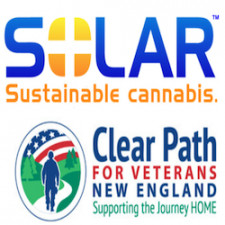 SOMERSET, Mass., November 10, 2020 (Newswire.com) - Solar Therapeutics (Solar) - America's only energy-independent cannabis company - today announced its partnership with Clear Path for Veterans New England (CP4VNE) in efforts to help raise visibility and deliver support for its wellness-based Veterans' Community Center located in Devens, MA.
"Solar and CP4VNE share a common belief about how we need to aid and assist our Veterans throughout all stages of their reintegration into civilian life," said Ed Dow, CEO of Solar. "We're beyond excited to partner with Clear Path for Veterans New England. We will do everything in our power to inspire our network and community to support Clear Path's amazing mission and programs."
CP4VNE mission is built on providing a safe and supportive community for Veterans to access the assistance they need to successfully reintegrate into civilian life. Rather than disjointing these resources into different locations, CP4VNE consolidates its services onto its campus, which is spread throughout Fort Devens. Their newly renovated headquarters is an epicenter comprising programs that enable Veterans the opportunity to interact with their fellow servicemen and women. While on the campus, service members have access to programs including, service dog training and pairing, peer-to-peer mentoring, workforce redevelopment, yoga, meditation and fitness classes, family aid and support networks, as well as other various social activities and events.
"This is an exciting time for us," said Donna Bulger, Executive Director & Vice President at Clear Path for Veterans New England. "It takes a united effort to offer the proper care for our servicemen and women and we're proud to support all of those who have proudly served our country. Partnering with an organization such as Solar allows us to continue connecting our Veterans with the resources they need to thrive in civilian life."
To kick off the partnership, Solar will be retailing custom-branded CP4VNE camouflage apparel at its Somerset dispensary and online store. All proceeds from sales will go directly to Clear Path to help support its wellness center, as well as other initiatives planned for 2020 and beyond.
About Solar Therapeutics
Based in Somerset, MA, Solar Therapeutics, Inc. (Solar) is a 67,000 square foot, triple-tier marijuana cultivation facility coupled with on-site and off-site dispensary storefronts that supply both medical and recreational cannabis products. Solar is organized as a MA. domestic for-profit corporation and has secured a Certificate of Registration from the MA. Cannabis Control Commission to operate in the Commonwealth. Developed behind the mantra Elevated. By Design™, Solar is unlike any cannabis manufacturing facility in America. Its key differentiators are its production architecture, which is centered around the facility's innovative design that utilizes green infrastructure and microgrid assets comprising a combination of solar arrays and high-efficiency combined heat and power generation units. These green concepts enable Solar to produce sustainable cannabis both by lowering its overall energy profile as well as by generating all of its own clean power. While initial facility design lowered Solar's energy profile by over 40%, the microgrid assets help to further reduce the remaining emissions by at least 60%, with a goal to offset completely. Learn more at www.solarthera.com
About Clear Path For Veterans New England
Based in Devens, MA, and founded in 2017 by a team of dedicated volunteers, Clear Path for Veterans New England (CP4VNE) is a 501(c)3 with one mission — to build a safe, supportive and respectful establishment for Veterans to seek the help and resources they need to successfully reintegrate into their communities. What makes CP4VNE unique is the consolidation of its services and programs into one campus, which is located on Fort Devens. CP4VNE is modeled after the successful programs of Clear Path for Veterans New York and its decade-long success, where the emphasis of "family" is the integral part and the first line of defense in upholding wellness. Clear Path NY continues to provide assistance, training and mentoring to support CP4VNE to provide programs and services that work. Learn more at www.clearpathne.org
Source: Solar Therapeutics