Software Ops CCO Anthony Conti Named Official Judge for the 2016 Communicator Awards, W3 Awards, and Davey Awards by the Academy of Interactive and Visual Arts
Press Release
•
Sep 30, 2016
Software Ops, a local Scottsdale AZ digital agency that specializes in native app/cloud software development and responsive web design.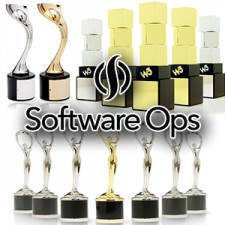 Scottsdale, Arizona, September 30, 2016 (Newswire.com) - Software Ops, a Scottsdale Arizona digital agency that specializes in native app development and responsive website design, is proud to announce that Anthony Conti (Chief Creative Officer) has been officially recognized as one of the esteemed judges for the 2016 Communicator Awards, The W3 Awards, and The Davey Awards by the Academy of Interactive and Visual Arts.
The Academy of Interactive and Visual Arts (AIVA) is an invitation-only assembly of leading professionals dedicated to recognizing the rapidly evolving nature of traditional and interactive media. A select group of members from all 50 states and 15 countries worldwide, the AIVA's mission is to honor, promote and encourage creativity by providing a benchmark standard of excellence for evaluating media design, interactive design, mobile design, production and distribution. AIVA members include executives from organizations such as Airtype Studio, Big Spaceship, Conde Nast, Coach, Disney, The Ellen Degeneres Show, Estee Lauder, Fry Hammond Barr, Lockheed Martin, MTV Networks, Pitney Bowes, rabble+rouser, Sotheby's Institute of Art, Time, Inc., Victoria's Secret, Wired, and Yahoo!
We are honored to receive this recognition from the Academy of Interactive and Visual Arts. Our team works tirelessly to design great products for our clients so it's wonderful when our talent is recognized.

Joe Michels, CEO Software Ops
Conti will start the judging process in September 2016. This being the 6th year serving as official judge; his process for evaluating distinction in creative work has expanded with mobile design and video production being added to the Awards. In determining Excellence and Distinction Winners, Conti will judge based on a standard of excellence in marketing and communications. Judging is based purely on quality of craft. Entries are scored on a 100 point scale. Generally, Excellence Winners receive a score of 90 or above and Distinction Winners receive a score of 70 to 89.
"I am humbled to be selected as a judge for such historic and prestigious industry awards. I look forward to interacting with all of the innovative ideas from digital design professionals around the world. I can't thank Linda Day (executive director of the Academy Interactive and Visual Arts) enough for always including me in the AIVA process of recognizing the best creative work in the world," said Anthony Conti, CCO of Software Ops.
Source: Software Ops
Additional Links