Socratic Wins Ai Innovation Award at Cogx London 2017
Press Release
-
updated: Jul 6, 2017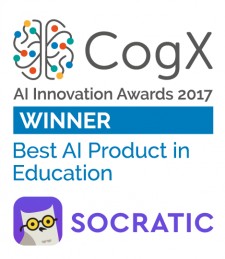 London, UK, July 6, 2017 (Newswire.com) - Socratic has won Best AI Product in Education at the inaugural AI Innovation Awards. The awards were founded by CognitionX, Market Intelligence for All Things AI, and recognize the best use of AI in specific industry sectors and technology domains, as well as applications in Social Good, Public Services and Ethics Leadership.
Socratic was chosen as the best AI Product in Education for their use of AI to increase mobile learning opportunities for students. The app allows users to take a photo of a homework question and get instant results that help students learn in a variety of ways through videos, definitions, Q&A and step by step help. Socratic's engineering team has combined cutting edge computer vision technologies with first-of-its-kind question classification to provide fast and targeted homework help to students.
"We're so happy to be recognized for our innovation in AI by CogX. Since beginning development on our app over 2 years ago, we knew using AI would help us provide students with more personalized and tailored learning content. We're proud of where we are today, excited for where we're going, and can't wait for more students and educators to try us out," said Shreyans Bhansali, co-founder, and CTO at Socratic.
Socratic can help students in any school subject, on any iOS or Android device, and in six major languages. The app is free and available in the App and Play stores.
CognitionX Founder and CEO, Charlie Muirhead, said, "The AI Innovation Awards are a celebration of the most impressive accomplishments made in this revolutionary technology. We're so pleased to have had such a stellar cohort of winners and finalists at the inaugural ceremony this year and feel honored that we were able to bring together these pioneers in Artificial Intelligence, who are playing a vital role in shaping our future."      
The awards took place at CogX London 2017 - an Innovation Exchange focused on the impact that AI will have across all industries, government, and society as a whole. The event, which ran in London from 20th-21st June, explored how we should navigate the new and complex landscape rapidly reshaping the world around us and attracted over 350 leaders from industry, academia, and government, and 1,500 attendees. CogX was hosted in association with the Alan Turing Institute, the UK's national institute of data science.
ABOUT SOCRATIC:
Socratic is a top-ranked and rated homework help app that combines cutting-edge AI with expert-made teaching content to put a free and instant tutor in every student's pocket. Like a tutor, the Socratic app understands where a student is stuck and provides high-quality teaching content, step-by-step solutions, Q&A, videos, and more. Socratic has been featured by Apple, Google, Time, and has helped over 60 million students.
For press inquiries, email: press@socratic.org
ABOUT COGNITIONX:
CognitionX is a Market Intelligence Platform that brings clarity to the complex and fast-paced world of All Things Artificial Intelligence. Our mission is to democratize access to the information and research on the products and resources required to build AI solutions. By organizing all the information from the industry and making it universally accessible and useful we empower everyone from enterprise to startups and governments – even individuals – to access and rapidly deploy AI.
ABOUT THE ALAN TURING INSTITUTE:
The Alan Turing Institute is the national institute for data science, with headquarters at the British Library. The group will work in collaboration with the broader data science community to undertake research and understanding the societal implications of Big Data.
The Institute is named in honor of Alan Turing, whose pioneering work in theoretical and applied mathematics, engineering, and computing are considered to be the key disciplines comprising the emerging field of data science.
Source: Socratic
Share:
---
Categories: Educational Technology, Artificial Intelligence and Expert Systems, Educational News
Tags: AI, edtech, education, free apps, machine learning
---