Social Media Star Hosts Exclusive Millionaire Mastermind on Tropical Island
Press Release
•
Feb 1, 2023
Marketing Agency Hosts Luxury Mastermind Event on Remote Tropical Island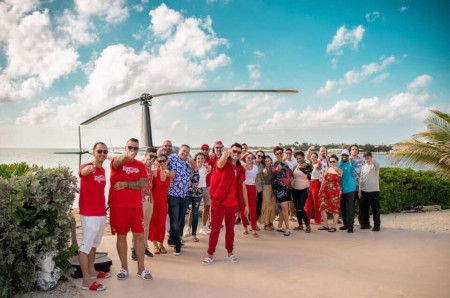 TAMPA, Fla., February 1, 2023 (Newswire.com) - Mawer Capital, a premier marketing company, has announced it took its Inner Circle members to an exotic island for a mastermind event. Founded by renowned entrepreneur and investor Mr. Rudy Mawer in 2020, the Clearwater, FL-based company is revolutionizing the online marketing space with its innovative strategies and results-driven approach.
Mr. Rudy Mawer commented, "I'm thrilled that our Inner Circle members got this rare opportunity to travel to an exotic island where they can learn from my team while connecting with like-minded business owners in a relaxed setting." He added, "Our events are always filled with amazing energy and I am excited for our members to explore new ideas, develop solutions together, network, collaborate as well as get inspired by myself, my executive team members and each other."
The mastermind event provided the members of the Inner Circle valuable insight from Mr. Rudy Mawer on how to take their businesses to new heights. During the course of the event, attendees had access to 1-on-1 mentorship sessions with Mr. Rudy Mawer and his team as well as unique opportunities for brainstorming. Participants also had time to relax and explore the beautiful surroundings of their exotic destination - allowing them to recharge while learning new leadership skills and strategies for success.
Their innovative methodology combined with expert guidance from industry leaders ensures that businesses succeed in today's competitive environment. The mastermind event is part of Mawer Capital's commitment towards offering exclusive experiences designed specifically for high-achieving entrepreneurs looking for growth opportunities in both personal development as well as business advancement.
To learn more about Mawer Capital's exciting growth, visit www.TheRedLife.com.
About Mawer Capital
Mawer Capital is a premier online marketing company founded in 2020 by Mr. Rudy Mawer. Mawer Capital is headquartered in Clearwater, FL, and operates worldwide with 107 team members. Mr. Rudy Mawer is a serial entrepreneur, investor, and marketing expert. He's built several 7- and 8-figure businesses, partnered with A-list celebrities like Kevin Harrington, Grant Cardone, and Mike Tyson, and has spoken at multiple events worldwide. For more information, visit www.TheRedLife.com or contact PR@MawerCapital.com.

Source: Mawer Capital