Miss Florida & Social Media Star Talk Influence, Expansion and Philanthropy
Press Release
•
Feb 10, 2023
New Podcast Episode of "Living the Red Life" Features Lindsay Bettis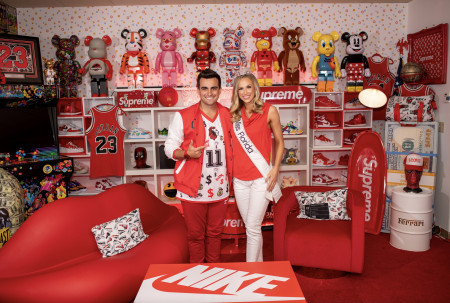 TAMPA, Fla., February 10, 2023 (Newswire.com) - Lindsay Bettis, the reigning Miss Florida, was recently a visitor at Mawer Capital's headquarters where she recorded an episode for the "Living The Red Life" podcast.
The "Living The Red Life" podcast episode featuring Miss Florida, Lindsay Bettis, as a guest is scheduled to air in February and will be available via all podcasts applications. Listeners who tune in can follow along with Lindsay's journey as she continues to work towards making a positive impact in society.
"'Living The Red Life' is all about creating your dream life and achieving your full potential in life," states Mawer Capital CEO, Mr. Rudy Mawer. "One of the most important driving forces is persistence and consistency. Miss Florida is a testament to this with both her time on the stage and her work on changing lives."
Lindsay was crowned Miss Florida 2022 and is a Summa Cum Laude graduate of the University of Central Florida. She is currently pursuing her MBA from Louisiana State University, while also working with Advanced Recovery Systems in their mission to reverse the addiction crisis.
Lindsay recounts the hard work and persistence it took to compete for the Miss Florida title six times. She also shares about her connection to her social impact initiative surrounding substance abuse.
"Each time I visit a school, I get messages from people asking for resources and sharing a story nearly identical to my family's," states Lindsay. "It's been really awesome to see how opening up about my story can help other people."
Lindsay added she is passionate about the importance of mental health and addiction prevention. She hopes that people who are struggling can take away something positive from her experience as they seek guidance in their own lives.
About Mawer Capital
Mawer Capital is a premier online marketing company founded in 2020 by Mr. Rudy Mawer. Mawer Capital is headquartered in Clearwater, FL and operates worldwide with 107 team members. Mr. Rudy Mawer is a serial entrepreneur, investor, and marketing expert. He's built several 7- and 8-figure businesses, partnered with A-list celebrities like Kevin Harrington, Grant Cardone, and Mike Tyson and has spoken at multiple events worldwide. For more information visit www.TheRedLife.com or contact PR@MawerCapital.com.
Source: Mawer Capital