Social Entrepreneur Working for Individuals With Special Needs Wins 2016 NJBIZ Healthcare Heroes Innovation Award
Nish Parikh, CEO of WebTeam Corporation and VP of Rangam Consultants Inc., is the winner in the "Innovation Hero - Individual" category of the 10th NJBIZ Healthcare Heroes awards program that is held annually to recognize New Jersey's most outstanding achievers in the area of public health care.
Press Release
-
Jun 22, 2016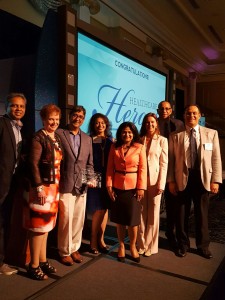 Somerset, NJ, June 22, 2016 (Newswire.com) - ​​​The social entrepreneur and technologist on Tuesday, June 21 joined an illustrious league of thought leaders in healthcare and related fields from New Jersey to receive a Healthcare Heroes award. Nish was recognized for his commendable work in empowering individuals with autism and related conditions. Notably, he won Verizon's Powerful Answers Award in 2014 and AT&T Civic App Challenge Award in 2015 for devising innovative ways to collect students' data and offer cost-effective intervention in special needs classrooms.
With a resolute focus on improving how people with special needs live and work, the WebTeam CEO has gone on to partner with Autism Speaks to develop an employment program called The Spectrum Careers that helps high-functioning adults looking for jobs befitting to their unique skills. Job seekers on the spectrum can use this program to visually demonstrate their professional skills to potential employers. A number of multinational companies have already come forward to hire workers with special needs for temporary positions through The Spectrum Careers.
"I would like to wholeheartedly thank NJBIZ, Horizon Blue Cross Blue Shield and the judges for honoring me. A special word of gratitude goes to Judith Sheft, Associate VP, Technology & Enterprise Development at The New Jersey Institute of Technology. This recognition would not have been possible without the support and encouragement that I have received from Rangam Consultants Inc., WebTeam's parent company which has been connecting mainstream workers to jobs for over a decade." Nish said.
Nish also thanked the Head of School at the Village Charter School, Dale Caldwell, who first introduced him to the challenges of special needs education and the opportunities to address them with innovative technology.
"As the head of school at the Village Charter School in Trenton, I know an excellent educator when I meet one. When I first met Nish more than 10 years ago, I knew instantly that he was a brilliant, warm and compassionate person with a gift for teaching and a calling to help others. This recognition confirms that my first impressions of Nish were accurate," Dale said.
"NJIT has had the opportunity to partner with WebTeam on several fronts with respect to the development of their unique products and services for autism management. We had student teams working on new product capabilities that gave our students the experience to take their academic learning and apply it to real applications for addressing serious societal challenges. WebTeam also is a graduate of the EDC (Enterprise Development Center) high tech / life sciences business development center located on the NJIT campus. The company gained access to valuable resources and mentoring to accelerate their growth. WebTeam is an example of great collaboration between an early stage development company and university capabilities," Judith said.
"I have known Nish for several years and can't think of anyone more deserving. His work on full life-cycle solutions for special needs and his passion for helping individuals with autism and other learning challenges is driven by pure selflessness," said Manish Patel, a friend and associate of Nish.
"Not every tool available on the market measures up to what's truly needed to effectively address the many complex challenges presented by autism. Nish's ColorsKit and The Spectrum Careers are different not simply because they won several awards in the past, but because of the several hundred years of expertise that has gone into developing them," Manish added, hinting at the successful partnerships that Nish has built with the New Jersey Institute of Technology, Autism Speaks, Eden Autism, ECLC of NJ and Dr. Michael Lewis of Rutgers Robert Wood Johnson Medical School, among others.
Autism spectrum disorder (ASD) is a lifelong condition with no known cause or cure. It affects one in 68 people in America, as estimated by the Center for Disease Control and Prevention. More than 50,000 children with ASD transition into adulthood every year to meet an uncertain future. One in three young adults aged 19-23 years has not had a job since leaving high school.
Source: Rangam Consultants Inc.
Share:
---
Categories: Educational Technology, Healthcare Technology, Special Education, Awards, Corporate Social Responsibility, Autism
Tags: 2016 NJBIZ Healthcare Heroes, autism spectrum disorder, ColorsKit, inclusive employment, Innovation Hero - Individual, mental health care, Rangam Consultants Inc., special needs education, The Spectrum Careers, WebTeam Corporation
---