Soberlink Alcohol Monitoring System Recognized in Major Addiction Journal
Press Release
•
updated: Mar 30, 2017
Addiction experts in a panel called remote monitoring systems "practical" and "valuable" in helping patients on the road to recovery.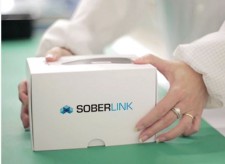 Huntington Beach, CA, March 29, 2017 (Newswire.com) - ​​​​​​​​​Experts in the field in alcohol addiction treatment have recognized remote monitoring devices like Soberlink Systems as a model for recovery through sobriety monitoring. The consensus paper, published in early 2017, concluded that remote blood alcohol monitoring is "feasible, practical and valuable in managing patient recovery."
The findings of the expert panel, published in the Journal of Addiction Medicine, detail a range of variables that are commonplace during treatment of alcohol use disorder.
"This consensus paper, written by AUD experts, further proves that the Soberlink System belongs in modern recovery care programs."

Brad Keays, CEO of Soberlink Healthcare, LLC
The panel of nine experts participated in a roundtable discussion that included Carlos F. Tirado, MD, MPH, Harold C. Urschel III, MD​, Alan Gordon, MD, Adi Jaffe, PhDA, Thomas McLellan, PhD, Gary Richardson, MBBCh, Gregory Skipper and MD, Michel Sucher, MD.
In their paper, the panel agreed that remote monitoring yielded better results in preventing alcoholic relapse because of a perceived sense of self-accountability by a patient-- effectively serving as a deterrent. They also agreed that one year minimum is recommended for a monitoring program, but there shouldn't be a fixed or standard length of time for treatment, as each patient should be carefully considered on an individual basis depending on results, cooperation and progress. The panel was in full consensus that testing should be at agreed upon times with the patient's point of contact.
The paper emphasized that the stated purpose of the remote testing was not to "catch" a patient in the act, but rather to monitor recovery progress and act as a deterrent. In most cases examined, there were more promising progress reports of patients compared to those that did not make use of remote testing.
For acute cases, remote treatment is recommended as part of a multifaceted approach with either a personalized specialty outpatient program, a hospital-based clinic, or through private practice treatment.
The panel looked into several factors that impede monitoring--- such as willful tampering or falsifications of tests. The panel had mixed opinions on following up on missed tests-- mainly because one missed test could be incidental, whereas a series of missed tests or a pattern of missing tests could signal issues with a patient's cooperation in their treatment.
They did agree that during remote monitoring, when scheduled test(s) are missed, the individual's listed contact support group should be notified. Willful tampering or failed tests, however, would ideally result in a meeting with the main treatment contact as well as increased monitoring.
Pitfalls and hurdles that have been commonplace in the remote monitoring are readily-available solutions with the Soberlink System. The system provides for extensive reporting on the cloud, facial recognition technology to prevent tampering, and automatic event notifications to a patient's approved contact group.
Coupled with a steady support group and treatment program, Soberlink's remote monitoring program is practical and valuable for helping patients in recovery.
Source: Soberlink Healthcare, LLC
Related Media
Related Files
Additional Links