Smash Mouth, DMC (Run DMC) and Kool Keith All Agree That on Election Day We Are All United With 'Unity'
On Election Day, Smash Mouth, DMC and Kool Keith Present Unity, The single and Music Video #UNITY
Press Release
-
updated: Nov 6, 2018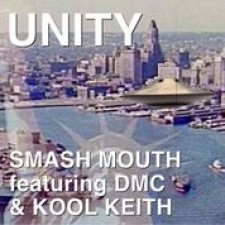 LOS ANGELES, November 6, 2018 (Newswire.com) - Oglio Records says, "On Election Day we are all united with Smash Mouth, DMC and Kool Keith for Unity."
Social media brought together the best of the best. Smash Mouth and their guitarist Greg Camp connected with rapper Kool Keith via Twitter and the rest was magic.
Smash Mouth was raised on Run DMC so the band decided they had to have him on this release. Greg Camp adds, "We were introduced to Kool Keith's music by our keyboardist Michael Klooster and we all hit it off instantly."
Unity was recorded at Eric Valentine's Barefoot Studios. Kool Keith and DMC tracked vocals at New York studios to complete the "East meets West" vibe for Unity. The song was then mixed by Dave Trumfio at King Size Sound Labs and mastered by Dave Gardener at Infrasonic in Los Angeles. "Unity" is the first collaboration between Smash Mouth and Oglio Records.
#UNITY
Apple:
https://itunes.apple.com/us/album/unity-feat-dmc-kool-keith-single/1440549494?ls=1
Spotify:
URI spotify:album:3m7bqJ0O3PxJHMAvKzumkB
URL http://open.spotify.com/album/3m7bqJ0O3PxJHMAvKzumkB
YouTube:
https://youtu.be/4XoqiKpI2zI
Instagram: Greg_camp_music
Twitter: GregCampMusic
FB: OfficialGregCamp
Smash Mouth
Twitter: @smashmouth
Instagram: @smashmouthsmash
Facebook: smashmouth
Web: www.smashmouth.com
DMC
Twitter: @TheKingDMC
Instagram: @kingdmc
Facebook DarrylDMCMcDaniels
Web: www.thekingdmc.com
Kool Keith
Twitter: @Ultraman7000
Instagram: @OfficialKoolKeith
Facebook: TheRealKoolKeith
Oglio Records
Twitter: @oglio
Instagram: @oglio
Facebook: oglio
Web: www.oglio.com
Watch the Video: https://youtu.be/4XoqiKpI2zI
Approved Smash Mouth Photos/Logo/Bio:
https://www.dropbox.com/sh/fi16fpy90s7ez3l/AABipw6nfVURgaV6yCr3iMXba?dl=0
Media Contact for Oglio Records: handsonpr@aol.com and 323.788.0741
Source: Oglio Records
---
Categories: Music
Tags: DMC, Election Day, Kool Keith, Mid Term Elections, Oglio Records, Run DMC, Smash Mouth, United, Unity
---