Smart Chick-Lit: The Sociology and Fiction Combo Empowering Women
Press Release
•
Apr 21, 2016
Trailblazing sociologist pens novel based on a decade of interview research that pays tribute to 1980s pop culture, challenges the fiction-nonfiction divide, and transforms a women's interest genre into women's empowerment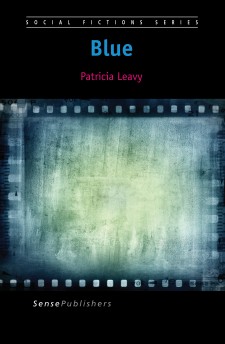 Kennebunk, April 21, 2016 (Newswire.com) - Blue is a genre-busting novel written by pioneering sociologist, Patricia Leavy, Ph.D. Grounded in a decade of interview research with women about their relationships and identities, Blue is scholarship that reads like chick-lit. This is a sociological study intended to be read on a beach or airplane. The goal: empowering female readers to see the possibilities in themselves and that people always have the power to change their lives. Great romantic relationships and friendships are only possible when women have great relationships with themselves. The message has resonated. Sense Publishers announced Blue is the first instant hit for the indie publishing house.
The beauty of fiction for communicating social research is that authors can show, instead of tell. Readers are more likely to absorb the lessons and relate them to their own lives. In Blue, as the characters' stories unfold, each is forced to confront their life choices or complacency and choose which version of themselves they want to be. Leavy also uses visual art, television and film as signposts throughout the novel, providing a context for how people come to build their sense of self in the world. In this way Leavy shows how the stories of pop culture shape the stories of real people. With a tribute to 1980s pop culture, set against the backdrop of contemporary New York (mostly Soho and Greenwich Village), Blue both celebrates and questions the ever-changing pop culture landscape against which people live their stories, frame by frame.
Grounded in a decade of interview research with women about their relationships and identities, Blue is scholarship that reads like chick-lit.

Sense Publishers
With its feet in both the worlds of fiction and nonfiction, Blue is garnering the attention of educators looking for new ways to reach students. Dr. Jessie Voigts, of Wandering Educators, calls Blue "a treasure" that she "couldn't put down and can't stop thinking about" and explains "it can and should be used in university classrooms, but it is also meant to be read for yourself, or with your book club." Blue has earned high praise from leaders in the academy including Drs. Norman Denzin, Sut Jhally and Laurel Richardson. Ultimately it is women readers of all backgrounds that Leavy hopes to reach with her feel-good tome.
Leavy is no stranger to pushing boundaries and has long used her pen to challenge the fiction/nonfiction divide and empower women in the process. An advocate for arts-based research (a field in which academic researchers use the arts to represent their work to broad audiences), Leavy has become a vocal public proponent of scholars turning their research into fiction. Her genre-busting novel Low-Fat Love (2011) became a bestseller for her publisher and is considered a landmark publication in academic publishing (Low-Fat Love was re-released in an expanded anniversary edition in 2015).
Blue is a part of the Social Fictions series, the only academic book series that exclusively publishes literary works based on scholarly research. Series creator and editor, Patricia Leavy, Ph.D., an independent sociologist and novelist (formerly associate professor of sociology, chairperson of sociology and criminology, and founding director of gender studies at Stonehill College) started the series because she was frustrated that academic research rarely reaches public audiences. Believing in the unique power of the arts to engage people and fueled by research in literary neuroscience that suggests reading fiction affects readers more deeply than nonfiction, Leavy partnered with the academic press Sense Publishers. The Social Fictions series has become one of their fastest-growing and most successful book series, garnering numerous awards including a 2014 Special Achievement Award from the American Creativity Association. Blue has already been nominated for both several trade and academic book awards. Even those in the beauty industry are impressed with Leavy's approach to literary self-care. Sabbatical Beauty, an independent beauty start-up, is selling one of Leavy's novels as a part of a spring skincare package.
Blue is a summer must-read. Women who grew up in the 1980s will love the pop culture references.
Contact:
www.patricialeavy.com
Kennebunk, ME
04043
United States
Direct Inquiries to Shalen Lowell, Assistant to Dr. Patricia Leavy, shalenlowell@gmail.com
Source: Sense Publishers
Related Media