SleepRate Launches Sleep-Life Balance Program to Help Millions of People Reach Their Peak Mental and Physical Potential
Press Release
•
Oct 15, 2015
SleepRate introduces its Sleep-Life Balance Program designed to help people reach important personal goals -- weight loss, enhanced athletic performance and improved focus & productivity - by simply detecting and fixing unhealthy sleeping patterns.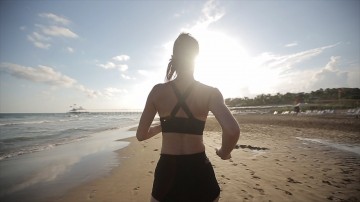 Palo Alto, CA, October 15, 2015 (Newswire.com) - SleepRate, a company that improves sleep for better health, announced the introduction of its Sleep-Life Balance Program™, designedto help people reach important personal goals -- weight loss, enhanced athletic performance and improved focus & productivity – by simply detecting and fixing unhealthy sleeping patterns.
"Studies have shown insufficient sleep makes for poor food choices, it can slow down recovery in athletes, and can hurt our ability to perform tasks that require logical reasoning or complex thought," said Anda Baharav, founder and CEO of SleepRate. "SleepRate's Sleep-Life Balance Program is the first to fine tune the brain to correct sleep disruptions that may wreak havoc on our goals."
The Sleep-Life Balance Program, which completely reboot's an individual's sleep systems and gets their sleeping patterns on track, features:

A

contactless

sleep sensor or a Polar H7 heart rate monitor. Based on preference, customers are provided with a device that continuously detects heart rate, breathing or motion, and allows insight into sleep structure and quality. Additional off the shelf BLE heart rate monitors are compatible.
A sleep assessment. This aspect of the program analyzes sleep during multiple nights in the natural sleep environment. Factors such as falling asleep time, sleep duration, sleep quality and cycles, nighttime relaxation and environmental noises that disrupt sleep are carefully monitored, resulting in an extensive sleep report.
A prescribed Sleep-Life Balance Plan. Here, individuals are provided with personally prescribed sleep & wake times, along with stress-reducing activities to practice before bed. Along the way, sleep-damaging habits are tracked and modified to make sure all sleep related habits are adjusted.
Continuous monitoring of indicators such as cravings, energy levels, mental focus and weight-loss to keep people on track. Based on selected personal goals, helpful reminders and tips are pushed out digitally so the program is always in practice.
Access to

SleepRate

sleep experts. A dedicated team of scientific experts stands behind the program.

The Program's technology is based on patented, FDA-cleared, sleep analysis algorithms and sleep improvement intervention protocols developed by The Stanford Medical Center,all designed to help reboot the body's sleep system. By combining these exclusively licensed protocols & the expertise of the SleepRate scientists with the simplicity of a smartphone, SleepRate is the first company that has been able to measure, monitor & harness the connection between sleep quality and higher order life goals, resulting in Sleep-Life Balance. Customers discover improved weight loss, increased productivity & focus, enhanced fitness —and ultimately a greater sense of well-being and better health.
The program is available for purchase at www.sleeprate.com. Other special offers and updates are available online at facebook.com/sleeprate or twitter.com/sleeprate.
About SleepRate
Based in Palo Alto, California and Petach Tikva, Israel, SleepRate was founded and is led by leading professionals in sleep medicine who have developed a patented way to harness the power of sleep, enabling people to achieve the ultimate in Sleep-Life Balance, including improved fitness, boosted productivity, optimal weight loss and management, improved over all health, and a greater sense of well-being in their lives. The company's mission: improve sleep to improve lives--so more and more people can wake up to success every day.​
Related Media