SkyWatch Announces Availability of Umbra SAR Data; Launch of InSARance Offering
Press Release
•
Aug 16, 2023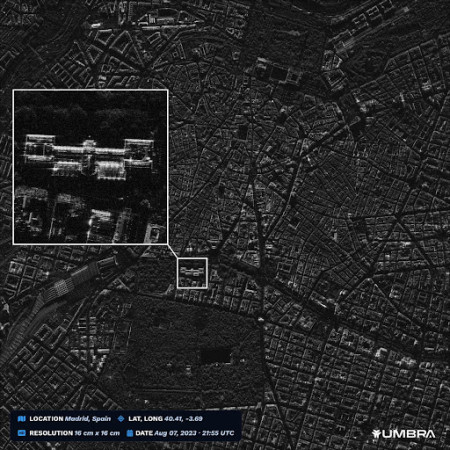 KITCHENER, Ontario, August 16, 2023 (Newswire.com) - SkyWatch, a leader in the remote sensing data technology industry, announced today its partnership with Umbra, a leader in advanced space radar technology. This partnership will allow customers to purchase Umbra's industry-leading synthetic aperture radar (SAR) data via SkyWatch's EarthCache platform.
SkyWatch's core mission is to make remote sensing data accessible, affordable, and standardized. SkyWatch launched the market's first API for commercial satellite data over five years ago and has served millions of square kilometers of imagery to thousands of organizations worldwide. An early pioneer of transparent pricing in the Earth observation industry, SkyWatch is thrilled to partner with Umbra, which earlier this year released over $1 million of free data via their open data program to help make Earth observation data more accessible and affordable.
"We are thrilled to partner with Umbra to offer SAR to our customers," says James Slifierz, SkyWatch's CEO and Co-Founder. "Our mission is to democratize remote sensing data through a simple user experience, and the addition of Umbra to our virtual constellation of over 400 satellites allows us to further enable our customers to solve complex problems with best-in-class commercial satellite data.
Each microsatellite in Umbra's commercial constellation is equipped with a powerful SAR payload, capable of seeing at night and through dense clouds to generate the highest-resolution radar images ever sold on the commercial market.
At any given point in time, the majority of the Earth's surface is experiencing atmospheric conditions that make optical capture challenging, if not impossible. In response to these challenges, SkyWatch also announced today SkyWatch InSARance, an optional composite SAR + Optical product which allows EarthCache Enterprise customers to capture a SAR image of the same area of interest (AOI) of their optical capture. "One of the benefits of SAR is its ability to capture images under all weather conditions. When you're trying to monitor and respond to critical events with satellite imagery, but it's a cloudy day, that's not very helpful," says David Proulx, Chief Product Officer at SkyWatch. "We want to give our customers confidence that their work can continue, regardless of the weather, and overlaying SAR and optical images ensures a usable capture."
"SkyWatch was one of the first companies to propel the Earth observation industry into the modern era of web-based, API-first tasking," says Joe Morrison, VP of Commercial Experience at Umbra. "It's extremely gratifying to be joining their platform after years of admiring their work from afar."
Umbra data is available now via the EarthCache platform.
About SkyWatch
SkyWatch is changing the way Earth observation and remote sensing data is managed, distributed, and accessed. We've created the first geospatial platform to support the full remote sensing value chain, from data management and distribution for remote sensing data providers to solutions to help organizations easily source, integrate, and manage remote sensing data.
About Umbra
Umbra is a technology company that offers intelligence data as a service to commercial and government customers. Our cutting-edge products help customers solve complex business and security challenges. Umbra is a U.S.-owned and operated company headquartered in Santa Barbara, California, and has a presence in Austin, Texas, and Washington, D.C. For more information, visit https://umbra.space.
Source: SkyWatch