Skills Living Breakthrough Web-Based Tool Now Available for Youth and Young Adults With Autism
Press Release
•
updated: Mar 13, 2018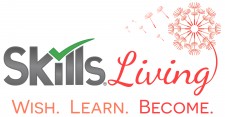 WOODLAND HILLS, Calif., March 13, 2018 (Newswire.com) - ​According to an October 2016 report by the panel on Youth with Autism from the United States Government Accountability Office (GAO), a half a million youth with Autism Spectrum Disorder will enter adulthood over the next decade. The study also stated that to improve the ability of autistic youth to integrate into society fully; there is a need for a new approach to providing support and a better public understanding of autism.
The difficulty in obtaining services once an individual reaches adulthood is so severe that it is often referred to in the autism community as "falling off the cliff." An awarding-winning California-based software company, SKILLS Global, is hoping to change all that with the release of Skills® Living, the first-of-its-kind, completely comprehensive, web-based tool to teach essential life skills to adults and youth transitioning into adulthood who have autism spectrum disorder (ASD). Backed by over 40 years of scientific research and proven behavioral therapies, Skills® Living builds the foundation for transitioning youth and adults with autism to develop independent living skills and reach their full potential as successful, contributing members of their adult communities.
"Research shows that the loss of support during the critical transition phase into young adulthood can have long-term, negative consequences for individuals with autism in multiple key areas that are commonly identified as indicators for success in adult life – employment, health, secure family relationships, and the acquisition of education," said SKILLS Global Chief Executive Officer, Eliana Ferreira. "Studies show that over a third of young people with autism do not make a successful transition to employment or continued education from the time between high school and their early twenties. We want to contribute to changing this."
The tools in Skills® Living create a comprehensive guideline for care providers and professionals to help learners develop the skills needed to thrive in all the important settings: at home, in school, in the community, and on the job. Skills® Living provides a comprehensive assessment and curriculum covering 16 key areas of independent adult functioning. The program allows for a clinician, teacher or caregiver to administer the easy-to-use assessment, which then tailors the lesson plan for the particular learner's needs.
Skills® Living addresses 16 key areas spanning the entire range of functioning adulthood: Cognition, Community Integration, Employment, Executive Functions, Functional Communication, Grade-level Academics, Health & Safety, Housing, Independent Living, Leisure, Mobility, Personal Responsibility, Relationship Skills, Social Skills, Technology, and Vocational.
Once a learner is evaluated with the Skills® Living program, the system will automatically create easy-to-use reports and graphs to give a visual roadmap for where they are and where they need to go to achieve success in any desired goal area. As they progress through the program, these reports are automatically updated to show progress and mastery, allowing for easy reporting to the clinical team, caregivers and funding sources.
While there is practically nothing on the market to help people with autism once they age out of services for children, Skills® Living will fill that void and provide the critical foundation needed to allow them to reach their fullest potential and thrive as active, independent, and fulfilled members of the community. For more information, visit https://www.skillsliving.com and watch our video.
About SKILLS Global, LLC
With two patents pending, SKILLS Global is the leading provider of software as a service solution for behavioral health. Founded in 2010, SKILLS Global provides web-based and mobile application software to school districts, managed care organizations, families and autism treatment providers worldwide. For more information, visit https://www.skillsforautism.com.
PR Contact: Monica Gillen mcatg@earthlink.net 714-271-4081
Source: SKILLS Global
Tags
Additional Links