Singapore Tightens Employment Pass Requirements, One Visa Immigration Consultant Offers Expert Insights
Press Release
•
updated: Jun 11, 2019
Experts say that despite revamped Employment Pass guidelines, there is a lot of room for interpretation.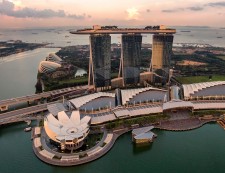 SINGAPORE, June 11, 2019 (Newswire.com) - ​​​​​​​Singapore's Employment Pass, which allows foreign professionals to work in the city-state, has become more elusive, with a continuous decline in holders in 2018. A veteran immigration consultant offers advice on how to overcome the hurdles.
As the world's most competitive economy, Singapore continues to be a preferred destination for corporate professionals from around the world. In fact, a recent survey conducted by Singapore's Ministry of Manpower (MOM) revealed that foreign workers in Asia's Lion City are "generally satisfied with their working conditions" and that they would "recommend the country as a place to work" to their family and friends.
However, gaining entry to work in Singapore is not a walk in the park, immigration consultant and One Visa Business Development Director Cheng King Heng cautioned. "In recent years, the number of rejections in Employment Pass applications has continued to rise. Singapore has tightened its hiring guidelines to consider its citizens fairly for higher-quality jobs," he explained.
The Employment Pass (EP) is a work visa issued by MOM, which allows foreigners to work in Singapore in certain specialized, executive or managerial positions. It lets holders work and live in Singapore, as well as enter and exit the country without the need for additional visas.
It is usually valid for one or two years and is renewable thereafter. EP holders also have better chances of getting a permanent residency application approved. Holders who meet additional eligibility criterion can bring certain family members to Singapore, including legally married or common-law spouse, unmarried children below 21 years old and parents.
To qualify for an EP, applicant must have a job offer in Singapore, work in a specialised, managerial or executive job, hold a degree from a reputable university (those without degree qualification should have more professional experience to compensate), have a strong employment history and earn a minimum fixed salary of SGD3,600 per month for young graduates. Senior talents with more experience may require a higher salary bracket.
Over the last two years, granted EP applications have declined, with the number of holders down by 6,400. This is partly due to the increased qualifying salary for foreign workers. According to Heng, this restriction, among other tightened guidelines, were put in place to prevent employers from hiring experienced foreign executives who are willing to work for much less compared to locals.
"Today, employers are required to increase the minimum salary for foreign workers for them to be on par with local talents," he said. "If their salary is too low, there is a very high chance that their EP application will get rejected."
Another common reason for rejected EP applications is weak justification for hiring foreigners. Heng noted that companies which "make excuses" to hire foreign talent without a real business need, will most likely be denied EP privileges. For employers, it is also crucial to note the caliber of applicants they wish to bring in. EP holders must be at least mid-executive professionals with exceptional skill sets that cannot be sourced locally.
In 2014, the Singapore government introduced the Fair Consideration Framework (FCF) which outlines fair hiring requirements to help ensure that local talents are not left out in the competitive job market. Before considering foreign workers, companies are required to advertise job vacancies on the state-run Jobs Bank. Advertisements should be open to Singaporeans and must run for at least 14 calendar days, among other requirements.
In 2018, MOM expanded the job advertising requirement of the FCF to cover more firms and industries. In effect, the EP application process has become more complex for employers, as stronger justification is now required to obtain the necessary pass.
Heng furthered that, as Singapore continues to strengthen its position as a global financial center in Asia, there will always be a demand for highly qualified foreign talents who can help boost the economy and embrace the diversity of the local culture.
He added, "The guidelines are clearly set by the MOM but there is a lot of room for interpretation, and that is where professional advice becomes really invaluable. Working with an immigration consultant who has a thorough and up-to-date knowledge of Singapore's immigration policies can make the difference, because you get tailor-fit advice and the benefit of industry expertise and experience."
For more information about applying for an Employment Pass, visit www.one-visa.com.
***
One Visa is a Singapore-based global immigration agency specializing in visa solutions for corporate professionals, entrepreneurs and investors.
Media Contact:
Shi Jie
media@one-visa.com
Source: One Visa Pte Ltd
Related Media
Additional Links