Simple Chuck Leads President's Initiative - Now 100% Made in America
Manufacturer proves they can cut overseas ties and still deliver savings, bringing jobs back to America!
Press Release
-
updated: Feb 7, 2017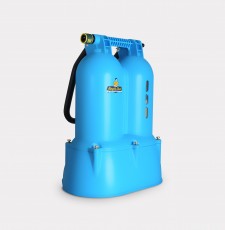 El Cajon, CA, February 7, 2017 (Newswire.com) - CR Spotless Systems (CRSS), the nation's largest provider of deionized water cleaning systems for cars, boats, motorcycles, solar panels and RV's, terminated their overseas procurement for 2017 proving a major manufacturer can support jobs in the USA while reducing prices through savings in overseas cargo shipping expenses.
"We've been the go-to provider of residential systems for over a decade but I had to import some of the plastics. I wanted to make it all in America, lower the price point, and make something cool and simple enough that I would use it," said Chuck DeWent, Founder of CR Spotless Systems.
Remember when stuff 'just worked'?  CRSS does so they launched Simple Chuck: cleaning products designed around their proprietary deionized water systems that Makes America Shine™ – no towel drying needed.  "I enjoy turning chores into no-biggies and I enjoyed the simplicity of life before the tech boom," said DeWent.  In addition to their new 'Double Chuck' water system, CR Spotless developed a line of Simple Chuck ™ vehicle care products centered about the concept of simplicity engineered with the idea that it has to be "So Simple, Chuck Will Use It"™. Each product whisks the senses away to a time when life was simple...no app required. Suds 'n Shine, Quick 'e Spray, Spray 'n Seal and a towel for "epic wipes" are all contained in a box for "the best shi(ne) ever" and the entire Simple Chuck line is showcased on Kickstarter for February.
The stuff may look like magic, but it's just science contained in a product so cool that the water won't even conduct electricity.​Deionized water simply evaporates spot-free and the only thing it leaves behind is a perfect shine on chrome, glass and paint. CR Spotless has provided folks the ability to Wash, Rinse and Walk Away™ for over 12 years and has helped nearly 100 thousand folks realize the game-changing capabilities of water that will not leave a spot after drying. Their products have been featured on Jay Leno's Garage and are sold worldwide. Mark Martin, NASCAR Hall of Fame Inductee, says he has "several CR Spotless systems and would recommend one to anyone who is serious about taking care of their vehicles."
About CR Spotless Systems
Located in El Cajon, CA, CRSS is a Veteran Owned Small Business whose values were forged over decades of service to our Nation and was the first to bring deionized water technology to the residential consumer in a portable device. For more information, please visit our CR Spotless website, or our Simple Chuck site  and like us on Facebook  and visit our YouTube channel  #makingamericashine™ #goodbyetoweldry™
Contact
John Fernandez
Director, Sales and Marketing
CR Spotless Systems, LLC
(858) 530-9993
john@crspotless.com
Source: CR Spotless Systems, LLC
Share:
---
Categories: Automotive, Manufacturing, Cleaning
Tags: car wash, cr spotless, deionized, deionized water, healthcare, made in usa, Mark Martin, NASCAR, spotless, usa, water
---