Commander's Spotless Water Helps Trump Make America Shine
Making America Shine™ helps save landfills, water and energy
Press Release
-
updated: Jan 26, 2017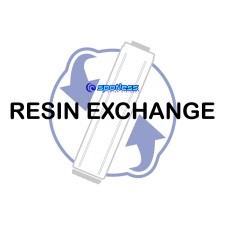 El Cajon, CA, January 26, 2017 (Newswire.com) - CR Spotless Systems (CRSS), America's #1 solution for home vehicle washing and the nation's largest provider of residential and light commercial deionized water systems, now recycles consumer cartridges to assist with reducing America's filthy waste and making it shine again.  CRSS is the first car, boat, RV, private plane, motorcycle and solar panel washing system offering towel-free, spotless, drip-and-dry washing with recyclable filter cartridges. This recycling alone saves 75 tons of plastic from the landfill (per 10,000 customers for each refill) and that's before considering the amount of filth removed without leaving a spot!
"Our Spotless Family Members spoke and we listened," said John Fernandez, Director of Sales and Marketing (a retired F/A-18 Fighter Pilot whose obsessive-compulsive attention to detail drew him to spotless water). "Our users didn't want to dump the used filter media in the trash and I can't say I blame them. So we designed and built the capability to convert the filter media (also called 'resin') back into ionic state thus easing the burden on Mother Nature AND significantly reducing the cost of ownership."
CR Spotless has been providing folks the ability to Wash, Rinse and Walk Away™ for over 12 years and has helped tens of thousands realize the game-changing capabilities of water that will not leave a spot after drying. Their success lies in the CRSS proprietary ion-exchange science behind the 'magic' of water that disappears without a spot.  The company has been featured on Jay Leno's Garage and over 20 major national magazines in 2016. Mark Martin, NASCAR Hall of Fame Inductee, says he has "…several CR Spotless systems and would recommend one to anyone who is serious about taking care of their vehicles."
About CR Spotless Systems
Located in El Cajon, CA, CRSS is a Veteran Owned Small Business whose values were forged over decades of service to our Nation and is the first to bring deionized water technology to the residential consumer in a portable device. System costs are less than the comparable cost of car washing by drive-through locations, save water, energy and can reduce washing and drying time to 5 minutes for normal sized vehicles.  For more information, please click here to visit our website, like on Facebook and visit our YouTube channel.
Commander John Fernandez (USN, Ret.)
Director, Sales and Marketing
CR Spotless Systems, LLC
(858) 530-9993
john@crspotless.com
Source: CR Spotless Systems, LLC
Share:
---
Categories: Automotive, Cleaning, Recycling
Tags: cr spotless, deionized, deionized water, Mark Martin, NASCAR, spotless
---