Sigmoid Delivers Next-Generation Analytical Solution 'SigView' to OpenX
Press Release
•
updated: Mar 11, 2019
The new partnership will power real-time analysis on the industry's largest independent ad exchange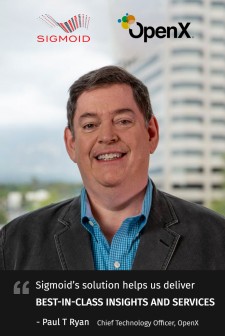 SAN FRANCISCO, March 11, 2019 (Newswire.com) - Sigmoid, a leader in real-time interactive analytics solutions for advertising technology, today announced a partnership with OpenX, the world's largest independent advertising technology provider. OpenX will be using SigView the leading real-time analysis solution from Sigmoid, as a centralized platform to conduct real-time analysis on the company's over 60B daily auctions, without compromising speed or user experience.
"We are excited to be working with OpenX, the largest independent ad exchange for publishers and demand partners," said Lokesh Anand, CEO and Co-Founder of Sigmoid. "Their team is comprised of true thought leaders in the Advertising Technology space and our collaboration represents a partnership between two companies experienced in innovating in this sector."
"Maintaining the highest quality marketplace standards for 10+ years is no small feat. We strive to deliver only the best for all our users, and Sigmoid's solution helps us continue to deliver best in class insights and service without compromising on speed or user experience," said Paul T. Ryan, CTO of OpenX. "OpenX has multiple product pipelines, whose collective data easily exceeds multi-billion rows on a daily basis. We were looking for a reliable and robust end-to-end solution that is highly visual and less technical, and should also be able to scale up to our data volume and deliver results in lightning fast response times," he continued.
In terms of performance, SigView is 10x faster than other enterprise data warehouse solutions, 5x faster than similar analytical platforms and nearly 60% cost-effective than other alternative market solutions.
As part of the partnership, Sigmoid is also delivering an auto-scaling and flexible feature to help manage costs and ensure that the system is always scaled up to the number of users using the platform.
About Sigmoid
Sigmoid provides real-time analytics solution for the digital advertising space, to enable partners to analyze programmatic data in real-time. Leading ad-tech companies to work with Sigmoid to analyze billions of rows, filter through multiple dimensions, compare results across time and carry out root cause analysis in a matter of seconds. With offices in San Francisco, New York, and Bangalore, Sigmoid is backed by Sequoia Capital and Qualcomm Ventures. Read more at https://www.sigmoid.com.
Media Contact:
Raghavendra Pratap Singh
​raghavendra@sigmoidanalytics.com
Source: Sigmoid
Related Media
Tags
Additional Links