Shouting for Harmony in New York for Multicultural Coexistence
New York gathers for multicultural communication and sustainable development for peace
Press Release
-
updated: Jun 1, 2018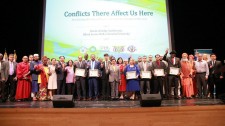 NEW YORK, June 1, 2018 (Newswire.com) -  In an effort to promote multicultural coexistence and peace in New York, a place known for its diversity, 300 participants including judges, religious leaders, youth and women from the USA, Senegal, South Korea and Yemen discussed international cooperation for peace building.
"Conflicts There Affects Us Here" was hosted at the University of Columbia by an international peace NGO, Heavenly Culture, World Peace, Restoration of Light (HWPL), its affiliated groups of women and youth called IWPG, IPYG and the Yemeni American Association, as an event to discuss the multicultural background of New York as a model for mutual respect and coexistence for peace building around the world.
The U.S., specifically New York, is well-known in the world for its immigration and exchange. By overcoming the imbalances caused by national institutions and culture, it can be used as an example for global peace movements.
"Promoting peaceful societies begins with each and every one of us. Just one gun can cause violence and one misunderstanding can cause chaos. Each of us here has the opportunity and the responsibility to become the bridge of our communities and ensure that our city is never divided," emphasized Captain Jamiel Altaheri of the New York Police Department.
"As President Roosevelt once said, we cannot always build the future for our youth, but we can build our youth for the future. I believe we must commit to ensure that the youth of my country are able to become the leaders of a prosperous and peaceful Mali," quoted Mr. Balla Sissoko, a representative of Mali.  
Chairman Man Hee Lee of HWPL said, "Cessation of war and achieving world peace is the duty of the global family. Thus, we should step toward peace with the same goal. The duty of people in this generation is the cessation of war and achieving peace to give a legacy to the future generation. To do this, we all need to be peace advocates."
HWPL, the host organization, has cooperated with legal professions, religious leaders, youth, women, civic organizations and media in order to advocate comprehensive resolutions for peace and raise awareness of peace-building activities to the citizens of the globe.
HWPL is carrying out global projects to spread a culture of peace based on the Declaration of Peace and Cessation of War (DPCW) drafted by experts from international law to propose solutions to global peace. It addresses principles of conflict resolution and international cooperation for peace building such as respect on the international law, peaceful dispute settlement and spreading a culture of peace.
Source: Heavenly Culture, World Peace, Restoration of Light (HWPL)
---
Categories: Media and News
Tags: event, hwpl, ipyg, iwpg, multicultural, nyc, yaa
---