Shattering the Silence of Sexual Violence
Press Release
•
updated: Jun 11, 2020
Strategic Solutions in the Wake of #BlackLivesMatter and COVID-19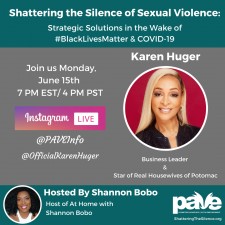 CHICAGO, June 11, 2020 (Newswire.com) - Promoting Awareness Victim Empowerment (PAVE) has joined forces with Business Leader, PAVE Ambassador, and Star of Real Housewives of Potomac Karen Huger for an unforgettable Instagram Live event in support of Black Lives Matter, and survivors of sexual and domestic violence through COVID-19 hosted by PAVE Ambassador Shannon Bobo from "At Home with Shannon Bobo."
PAVE is a movement creating a world free from sexual violence and building communities to support survivors. PAVE empowers students, parents, and civic leaders to end sexual violence. Since 2001, PAVE has trained more than 50,000 college students and 10,000 professionals including military service members and maintains over 50 chapters and affiliates across the country.
In the wake of #BlackLivesMatter and COVID-19, we need to support survivors of sexual and domestic violence, now more than ever. On Monday, June 15, PAVE Ambassador Shannon Bobo, will lead us in insightful dialogue with Karen Huger. PAVE's Instagram Live will discuss systemic issues, provide strategic solutions, and resources for survivors. Huger has always been passionate about shattering the silence of sexual violence. In 2016 Huger was honored with an award for her activism at PAVE's Champagne for Change Gala in Washington DC.
Karen Huger said, "First COVID 19 quarantined us all. For so many, that means that we are ordered to live in abusive home environments that seem to have no way out. Then directly on the footsteps of the pandemic #BLACKLIVESMATTER blew the door off the hinges of an unjust system desperately in need of reform. Join us for an evening of informative life-saving conversation."
1 in 4 cisgender white women are survivors of sexual violence. These statistics are very different for LGBTQIA survivors of color. According to the Human Rights Campaign "Among people of color, American Indian (65%), multiracial (59%), and Black (53%) respondents of the 2015 U.S. Transgender Survey were sexually assaulted in their lifetime."
PAVE stands in solidarity and action with #BlackLivesMatter. PAVE grieves the murders of George Floyd, Breonna Taylor, and Ahmaud Arbery. PAVE is committed to supporting survivors, especially those who are marginalized. PAVE actively continues to work toward a future where every survivor is heard, believed, and can receive the justice and healing they deserve.
PAVE's Instagram Live is dedicated to supporting and providing resources to survivors who are at increasingly in danger due to COVID-19. Through engaging dialogue, we will come together as a virtual community to directly provide support and resources to survivors of sexual and domestic violence.
We hope you can tune in for this dynamic, Instagram Live event in support of #BlackLivesMatter, and survivors of domestic and sexual violence! Join us on Monday, June 15 at 7 PM Eastern/ 4 PM Pacific. For more information, please visit ShatteringTheSilence.org.
MEDIA CONTACT: PAVE's Outreach Director, Rachel Mackinnon: 877-399-1346, Ex 7
Source: Promoting Awareness, Victim Empowerment (PAVE)
Tags
Additional Links