Sex Toys Improve Your Sex Life & Ella Paradis Has the Proof
Press Release
-
updated: Feb 5, 2020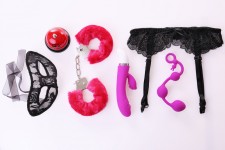 MIAMI, February 5, 2020 (Newswire.com) - A study conducted by Ella Paradis, leading online retailer of sexual health & wellness products, revealed 86.2% of people believe toys improve their sex life, and 83.1% of people intend to use sex toys this Valentine's Day. 1,160 customers participated in the study seeking answers as to why people are using toys and what type of toys they are using.
"When I started Ella Paradis, my goal was to improve the sex lives of those around me. I heard stories of women with certain health conditions making it extraordinarily difficult to reach climax. I've met men with performance issues due to diabetes or low testosterone. The trans community has told me toys help make it possible to connect with their partner," remarked Tino Dietrich, CEO of Ella Paradis. "But to see the data proving toys have improved sex lives, I know my mission has only just begun."
Since an overwhelming majority of respondents felt toys improved their sex lives, Ella Paradis took this one step further to better understand the why behind the responses. With 86.2% of their respondents noting they use a vibrator, they asked the question, "Why do you use a vibrator?"
32.6% of respondents noted "There's no specific reason, just because," showing how most people have no specific reason, but the fact that they do significantly improves their sex life. 29% of respondents noted toy use allows them to experience a blended climax during sex, which is a combination of both vaginal and clitoral climaxes. 15.9% noted they experience more intense climaxes while using a vibrator than from sex itself. While 11.6% said they struggle to reach climax with their partner during sex. Only 8.37% noted they use a vibrator because they don't have a partner – bucking the idea that toys are used during solo masturbation only. That means 56.5% of respondents use a vibrator to amplify their sexual experience in some way, shape or form.
With the majority using a vibrator during sex, the next question inquired about the frequency of which respondents used vibrators during sex. 72.5% noted sometimes, 17.4% every time, and only 10.1% noted never. This means, a whopping 89.9% of respondents use a vibrator during intercourse, whether sometimes or all the time. Given this information, Ella Paradis went even deeper to see what type of vibrators are being used during sex.
54.3% said a clitoral stimulator, a category which encompasses multiple types of vibrators which directly stimulate the clitoris. Examples include wands, bullet vibrators, finger vibrators, or the latest class of advanced toys: suction/sonic wave vibrators. These new devices use vacuum or sonic waves to stimulate the clitoris without direct touching – preventing uncomfortable hyper-stimulation. 14.5% continued to say they used other types of clitoral stimulators, while 13% said a traditional/rabbit vibrator, 6.5% said wand, 5.8% said a bullet/finger vibrator and 5.1% said a dildo. This falls in line with current statistics stating around 70% of women require clitoral stimulation to reach climax.
As mentioned previously, 83.1% of respondents noted they intend to use toys this Valentine's Day while 16.9% said they did not intend to use toys this upcoming holiday. With this in mind, Ella Paradis wanted to understand specifically which types of toys respondents will be using this Valentine's Day.
Mirroring the popularity of vibrators and vibrator sex, the majority (39.8%) noted they will be using a vibrator, 36.1% said they will be using multiple sex toys, 6.8% said a c-ring, 4.5% indicated bondage toys, 4.5% said a dildo, 4.5% said other and only 3% noted they will be using anal toys.
Toys, and specifically vibrators, have become increasingly popular with old stigmas surrounding sex and toys being lifted in recent years. The data from Ella Paradis' survey also proves that society is open to the thought of toys and embracing their various benefits. To learn more about these toys and to find something for yourself, or your partner this Valentine's Day, head to the Ella Paradis website!
Source: Ella Paradis
Share:
---
Categories: Lifestyles
Tags: alternative lifestyles, lgbtq, sex, sex education, sex toys, sexual health, sexual wellness, vibrators
---