Serving 4 Million Children Across the United States: Celebrating CACFP Week!
Press Release
•
updated: Mar 13, 2017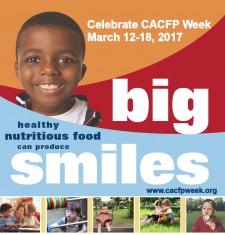 Austin, TX, March 13, 2017 (Newswire.com) - March 13-18 is National Child & Adult Care Food Program (CACFP) Week. The CACFP is a partnership between parents, children, providers, and the CACFP sponsor emphasizing the important role that the CACFP plays in promoting lifelong healthy eating habits in children and also emphasizes the importance of the CACFP to promote physical activity in family child care homes and child care centers. The CACFP has been cited both in academic studies and in government reports for the contributions it makes to the well-being of children being cared for in our child care system.
The primary goal of the CACFP is to serve nutritious meals to children attending child care homes and centers, especially those from lower economic circumstances. Proper nutrition is vital to the physical, intellectual and emotional development of young children. Secondary goals of the CACFP are: the establishment of lifelong, positive eating habits, reduction of future health care and education costs due to lack of proper early development, and training and support of local child care personnel. Benefits extend to not only the children, but also parents, providers and the communities in which child care home and centers are based. Currently there are 115,000 family child care providers working with 800 sponsors using CACFP. In 2015, CACFP provided 1.9 Billion snacks to 4 million children and 125, 000 persons in Adult Care and 62,000 child care centers.
During CACFP Week we celebrate the thousands of child care providers, center and afterschool staff, sponsors, state agency and USDA staff who work to secure food access for every child.

National CACFP Sponsors Association
Participants of CACFP get the most up to date information from government organizations such as the USDA and Let's Move!, regarding exercise and nutrition. Participation means that not only are well-balanced meals and snacks served, but that other requirements such as safety regulations, child to staff ratios, and other health guidelines are being followed. To remain in the program, homes and centers are continually monitored and held to the highest standards of health and nutrition with visits from their CACFP sponsors.
Research proves that good nutrition in young children not only contributes to their physical growth, but to their intellectual and emotional development as well. Children who participate in the CACFP have the opportunity to develop positive eating habits that will lead to a lifetime of good eating habits and good health. CACFP is truly an indicator of quality child care and a program that works sincerely to create a healthy future for America.
Source: National CACFP Sponsors Association
Additional Links