Send Word Now Co-Founder Launches Crisis Management Platform to Simplify and Centralize Response Team Coordination
Groupdolists Takes Emergency Notification Solutions Further
Press Release
-
updated: Sep 14, 2017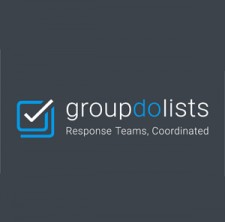 NEW YORK, September 14, 2017 (Newswire.com) - Groupdolists, a cross-platform SaaS solution built for security operations and emergency management teams responsible for protecting employees and assets, announced its official launch today. Developed to simplify crisis response team coordination and recovery, Groupdolists instantly creates a common operating picture that harmonizes processes and procedures across any organization.
"Today is a tremendous and timely milestone and we expect to make a major impact for front-line teams who prepare for, respond to, and recover from unexpected incidents," said Michael J. Sher, founder. "Unfortunately, every week we hear about a new terror attack, active shooter incident, ransomware threat, train derailment, torrential weather event, etc., and those on the front lines need better ways to manage and coordinate these situations. While most organizations have already invested in emergency notification solutions, most have not yet invested in response team coordination solutions."
Key features of Groupdolists include the capability to:
- Digitize and activate standard and emergency operating procedures
- Add tasks containing files, links, photos, videos, comments, and due dates
- Instantly push procedures and tasks into response team's devices
- See completed and pending tasks in real-time on any device
- Create a view-only link option so that leadership and third-parties can track progress
- Generate reports for forensic analysis/audit/after-action
Groupdolists has assembled all-star leadership and advisory teams, many who helped build and grow emergency notification service Send Word Now (SWN Communications Inc.) started right after 9/11, and recently acquired by OnSolve, formerly ECN (Emergency Communications Network). The DNA of Groupdolists dates back 15 years, developing communication solutions specifically for the emergency and incident management markets. Groupdolists takes the next step beyond emergency notification. The company's pipeline already includes dozens of existing relationships with emergency managers, security directors, disaster recovery, business continuity, continuity of operations, and resiliency professionals.
"When Mike called me during the summer of 2016 and asked me to take a look at Groupdolists, I almost fell out of my chair after viewing a demonstration," said Peter Dowling, former United States Secret Service executive who has protected multiple Presidents. "I could not believe the ease with which a crisis manager was able to assign tasks and get instant feedback on the completion of these tasks. Groupdolists opens a highly functional network of actionable communication between the entire crisis management team, and allows the crisis manager to simultaneously communicate progress to executive management via a single link. Having managed eight significant crises, five of which involved the loss of a principal facility, the use of manual processes is archaic, and lends itself to error. When I look at my past experiences in the context of Groupdolists, I would deploy it immediately in my emergency management tool box!" said Dowling.
"We built GroupDoLists because we see an incredible opportunity to make a difference for those managing corporate and government front lines, with the expectation that we will help protect and (in some cases) save lives. We welcome the opportunity to improve operational efficiencies dramatically for emergency managers, security directors, and others who coordinate response teams and recover from unexpected threats and incidents," said Sher.
###
About Groupdolists:
Powered by Centrallo, the Groupdolists application simplifies coordination during routine and emergency incidents, instantly creating a common operating picture across operation centers and dispersed response and recovery teams, keeping everyone involved synchronized during any situation.
For more information or interview requests, please contact Michael J. Sher:
Email: press@groupdolists.com
Twitter - https://twitter.com/groupdolists
LinkedIn - https://www.linkedin.com/company/22322606
Play Store - https://play.google.com/store/apps/details?id=com.groupdolists.android&hl=en
App Store - https://itunes.apple.com/us/app/groupdolists-response-team-task-coordinator/id1260967873?mt=8
Source: Groupdolists
---
Categories: Business Technology, Public Sector, Emergency and Disaster Relief, Government News, Cloud computing, Saas (Software as Service), Venture Funding, Government News
Tags: business continuity, collaboration, crisis management, disaster recovery, employee safety, groupdolists, incident management, Intermedix, send word now, shared lists, task management
---
Related Files
Additional Links