Seminole Ridge High School Defies Odds and Advances to State Finals
Press Release
•
updated: Jan 9, 2017
In the midst of Competitive Cheerleading becoming an Olympic sport and being extremely competitive, one team is defying the odds and competing for an elite title without much experience or training.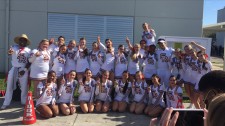 Miami, FL, January 9, 2017 (Newswire.com) - ​​On Friday, January 6th, the Seminole Ridge High School competitive cheer team easily won the Regional Championships that include schools from Monroe, Dade, Broward, and Palm Beach counties. They scored high enough to advance them directly to the finals at the FHSAA State Championships which will be held in Gainesville, FL later this month. However, it is not the team's record, nor their scores which demands one to take note. It is the fact that the large majority of the team had never cheered before high school, as well as the hard-working commitment to excellence that is brought upon by their coach, Tamara Licavoli.
As Competitive Cheerleading surges in popularity, especially after being named a sport by the International Olympic Committee, thousands of kids are now flocking to the sport and getting private instruction through private competitive cheer teams, and are starting as early as 5 years of age. This creates an excellent feeder program for the high schools to be able to attract experienced cheerleaders for their teams and vie for the coveted state title.
I am so proud of this team in particular, they have so much raw talent, my biggest challenge was to get them to believe in themselves and not to doubt their ability.

Tamara Licavoli, Head Coach
"Competitive Cheerleading requires an insane amount of strength, athleticism and flexibility which cannot be achieved without years of training," said Val Kinstron of the International Cheer Union, the world governing body of cheerleading and the group responsible for working with the International Olympic Committee. "Winning any championship, is almost unheard of without having a support program and dotting your team with experienced competitive cheerleaders. It would certainly be defying the odds, but great to see," continued Kinstron.
While most state championship caliber teams are filled with cheerleaders that have many years of competitive cheer experience prior to high school as well as feeder programs through the associated middle schools and private cheer schools, the Seminole Ridge Hawks lack this support. In fact, they have only one member out of 26 teammates who is involved in competitive cheerleading outside of the high school which makes the success they have already achieved puzzling as to how they got to such an elite level. Enter Coach Licavoli.
After taking over the team in 2011, Coach Licavoli has made it to the State Championships every year and has won 3 regional titles during that time. Having over 15 years of coaching experience which started at Florida Atlantic University back in 2000, brings to the team an intangible which many may overlook when questioning how a team with such little experience continually makes it as far as they do.
Each year is almost like starting from scratch when we lose seniors from the previous years," said Coach Licavoli. "So many of our kids are only in their 1st, 2nd or even 3rd year of cheerleading. I am so proud of this team in particular, they have so much raw talent, my biggest challenge was to get them to believe in themselves and not to doubt their ability."
The Seminole Ridge Community High School Hawks competitive cheerleading team will attempt to continue to defy the odds on January 29th at the FHSAA State Championships in Gainesville and will be broadcast live on the internet via the NFHS network and rebroadcast on television through Time Warner's Sports Channel.
Please email George Domaceti, freelance journalist, for more information.
Source: Seminole Ridge Community High School