A Vacation From Terror and Hate; Kashi Ashram Offers a World of Peace to Everyone
The intentional community welcomes residents and visitors from all walks of life and circumstances.
Press Release
-
Oct 4, 2016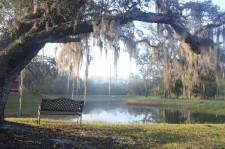 Sebastian, FL, October 4, 2016 (Newswire.com) - Kashi Ashram, an intentional community deep in tradition, offers a world where people's ethnic traditions, religious cultures and lifestyles are poles apart, yet all are able to live side by side in peace, tranquility and harmony.
Each year, terror attacks and hate crimes rise exponentially.  In fact, there have never been so many than in the past year.  No one likes to remember these events, but they are shaping an entire generation.  The Normandy Church Attack, the Bastille Day Massacre, the San Bernardino Attack, the Turkey bombings, the Bastille Day Massacre in France, the Brussels Bombings, and of course, the deadliest mass shooting on U.S. soil in the Orlando Nightclub, all occurring within months of each other.
Acts of aggression against others because of differences in religion, race, creed, gender, customs and lifestyle have become all so common throughout the world.  So where is safe?  Why can't contrasting people live together in harmony?
Perhaps that is why spiritual and intentional communities are thriving, and in the past few years, have become increasingly popular. 
Imagine a world where people look out for each other, where they all pay it forward, where success is measured in selfless acts, and where kindness is the philosophy of life.  Intentional communities feature people from all walks of life, all religious beliefs and various lifestyles, all living together in harmony.
Enter Kashi Ashram located in Sebastian, Florida.  A sanctuary for the soul, a vacation from hate, a place of awakening, are perhaps better ways to describe this 80-acre intentional community which sits alongside the charming St. Sebastian River amid the natural environment posturing as its backdrop.
People continuing to develop placid and loving relationships towards each other, working toward inner spiritual completeness with nothing to prove yet everything to give are attributes which distinguish this community.
"We are an intentional community in the sense that we have come together in common purpose and mission," said Swami Durga Das, the CEO of Kashi Ashram which was founded 40 years ago.  "Our intention is to touch those who want to go within, in a spiritual sense."
Kashi is not just an intentional community.  It's a green community, it's an eco-village, it's a spiritual retreat, and it's a nationally acclaimed Yoga instructor school which also offers daily classes to the public.  While some live on the pristine grounds, the property is open to anyone to come visit, meditate, escape and unwind. 
I briefly visited Kashi Ashram earlier this year, and felt so fortunate to have had the chance to tour the pristine grounds of this well preserved green community complete with an eco-friendly area contiguous with the environmentally protected St. Sebastian River.
During my first visit to Kashi, I really had no idea what was about to ensue.  It was quite difficult to describe the feeling I encountered when I met with some of the staff and residents.
"Someone once said; If you ever find somebody that's willing to tell you the truth, hang on and never let go," said Yashoda, a long-time resident, teacher and practitioner at Kashi Ashram.  These words resonated my thoughts as I truly felt moved by the genuineness of the staff as well as the people.  So much so, that I knew that I wanted more, and I knew I would be returning.
While some people mix-up intentional communities with the ideologies of the stereotypical drug-ridden, sexually immoral communes of the 60's and 70's, present day intentional communities could be nothing further from that.
Kashi doesn't exist to reinforce beliefs of any one religion, but it does encourage you to follow your own beliefs.  Many who don't fit the mold of 'believers' but consider themselves 'spiritual' have found that Kashi embraces this self-understanding and provides a path for spiritual development which upholds the integrity of the individual while helping each person explore and shape their spirituality in an environment that values differences.
"While we are a spiritual destination, we are not a religious community as we are open to all faiths and all ways," added Durga Das.
As a spiritual retreat, Kashi allows and hosts spiritual retreats throughout the year.  John Milton, a world renowned environmentalist, says that Kashi is like only 3-4 places on the planet. Individuals come for a day to retreat and feel the sacredness, while some come for a lifetime and are part of the fabric of the community.
Many believe that the key to eliminating hate is to match it with kindness, love and the truth which seems to be the common core belief inside intentional and spiritual communities.
"Kindness is my religion," continued Durga Das when recalling how the late founder and spiritual leader of Kashi, Ma Jaya, used those words to describe the lifestyle at Kashi. "We believe that kindness is one of the ingredients in making the world a better place.  Through random acts of kindness, you'll find things to fill your soul and help you remember that the world is an amazing place."
Kashi Ashram also provides outreach and service locally, nationally and internationally, and will continue the service work to humanity in perpetuity.  
"Ma Jaya always taught that the fastest way to experience God was through service," said Swami Anjani, Kashi's Director of Community Relations. "Ma would say repeatedly, 'Always remember, there are no throwaway people.' That directive of unconditional love has guided us for the past 40 years."
People who are tired of all the negativity in the news, frustrated by politics, and sad to hear about all the pain and suffering out there are excellent candidates to pay an intentional community a visit.
The residents and visitors at Kashi will remind you of all the good there is in this world, and will show you that love is the strongest emotion in our hearts, and kindness is the antidote to all the bad stuff.
On October 28-30, Kashi celebrates the Diwali Yoga Retreat (celebration of divine light), and welcome all to attend.  More information on this and any other events can be found by calling Kashi Ashram at 1-800-226-1008 ext. 0.
If you would like to find out more on intentional communities, a great resource is the Fellowship for Intentional Community Website, or give the wonderful people at Kashi Ashram a visit.  You'll be glad you did!
Source: Kashi Ashram
Share:
---
Categories: Real Estate, Travel, Yoga / Meditation
Tags: Ashram, Intentional Community Living, Kalli Natha Yoga, Kashi, Spritual Retreat, Yoga Retreat
---