SDG5.Global Artist-in-Residence Kristin Simmons Unveils 'Women of Change' at the United Nations, Commissioned by 5th Element Group
Press Release
•
updated: Sep 17, 2019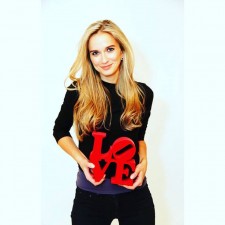 NEW YORK, September 17, 2019 (Newswire.com) - ​As the first Artist-In-Residence commissioned to create popular art celebrating the significance of UN Sustainable Development Goal #5, the empowerment of women and girls, award-winning artist Kristin Simmons has released worldwide today the art piece Women Of Change, ​commissioned​ by 5th Element Group PBC.
Available worldwide through the SDG5 Global Alliance website (www.SDG5.global), Women Of Change was first unveiled at the SDG Family Office Impact Summit in the UN Delegates Dining Room earlier this month. It will go on display at the United Nations on Dec. 16. The residency program is an initiative of The SDG5.Global Alliance, an omniwin movement lifting the work of a wide range of leaders and causes pursuing gender equality across sectors.
"We think it's essential to lift up the voices of thoughtful female artists in pop culture," said Jim Van Eerden, president of 5th Element Group. "Kristin's voice and amazing art will help spark meaningful conversations -- which is always the precursor to cultural perception shifts -- and we expect that this piece will also raise significant funding for SDG 5 causes."
Women Of Change is the first of four commissioned pieces as the SDG5.Global that Simmons will create. It is being printed in five different color formats, 80 prints per piece, each hand-signed and numbered by the artist. Proceeds will be directed to SDG #5 causes around the world, administered through The SDG Impact Fund.
Simmons is the recipient of several prestigious awards, including the Orra White Hitchcock award and the National Endowment of the Arts Award. She received a dual Bachelor of Arts degree in Art History and Visual Arts from Columbia University and has had two solo shows to date. In addition to being featured in numerous group exhibitions and in prestigious galleries worldwide, Simmons' work has also been featured in public spaces like the Whitney Museum in New York.
Influenced by her own narrative of growing up with a working mother and her own experiences in the real-life "Mad Men" atmosphere of her first jobs in advertising, Women Of Change portrays an accurate but unfortunate reality: In the 21st century, women continue to face significant pay inequality, with most recent data suggesting that women earn an average of 80 cents to every dollar earned by men. The piece itself features 80 "pennies" of women -- including living legends such as Oprah, Ruth Bader Ginsberg and Melinda Gates -- who have trailblazed within different industries. The Kruger-esque question about "WHAT SENSE (CENTS) WILL YOU GIVE UP FOR A DOLLAR?" is a play on words meant to provoke and inspire viewers to not only understand the pay gap but also respect and learn about historically pivotal women in myriad industries.
During the unveiling of her first commissioned piece, Kristin expressed that, "SDG #5 excites me for a variety of reasons, but primarily because SDG5 is an exponentiator. When we finally live in a world where all human beings are treated equally, regardless of gender, we will see a more empowered, more educated, more inspired humanity that can and will achieve and overachieve all of the other Global Goals."
With three more commissioned pieces to come, Simmons will employ contrasting imagery, visuals and typography to create an accurate portrait and generate meaningful conversation about what defines and confines the female experience in the 21st century. Simmons believes art can inspire provocative and uncomfortable topics to be addressed in a collaborative way, akin to how the UN operates through conversation, diplomacy and integrity. She not only hopes to give a voice to female artists but also to inspire conversation about how we can eradicate harmful gender stereotypes through both action and reaction.
"I don't know if art can solve a political problem, but I think it can reflect it better than any other medium. I'm not aiming for viewers to say this art is good or bad - that is obviously subjective. The most important thing art can do is provoke conversation and shape future culture," Simmons opined, and she aims to create art that does just that.
Women included in Women of Change
Abigail Adams, Admiral Michelle Howard, Alice de Rivera, Amalia Eriksson, Amelia Earhart, Aretha Franklin, Barbara Mikulski, Betsy Ross, Betty Friedan, Billie Holiday, Billie Jean King, Bobbi Gibb, Clara Barton, Coco Chanel, Coretta Scott King, Edith Wharton, Eleanor Roosevelt, Elizabeth Arden, Elizabeth Blackwell, Elizabeth Cady Stanton, Emily Dickinson, Empress Wu Zetian, Estee Lauder, Eva Peron, Florence Nightingale, Frances Perkins, Georgia O'Keeffe, Gloria Steinem, Golda Meir, Harriet Beecher Stowe, Harriet Tubman, Helen Keller, Helena Rubenstein, Hilary Clinton, Indira Gandhi, Isabel Benham, Jacqueline Cochran, Jane Austen, Jane Doe, Jane Fonda, Jeannette Rankin, J.K. Rowling, Joan Clarke, Joan of Arc, Jodi Kantor, Julia Child, Junko Tabei, Katharine Graham, Katherine Johnson, Kathryn Bigelow, Katie Bouman, Malala Yousafzal, Margaret Sanger, Margaret Thatcher, Marie Curie, Maya Angelou, Melinda Gates, Meryl Streep, Michelle Obama, Mother Teresa, Nina Simone, Norma McCorvey, Oprah Winfrey, Princess Diana, Queen Victoria, Rani of Jhansi, Rosa Parks, Rosalind Franklin, Rose Valland, Ruth Bader Ginsberg, Ruth Handler, Sandra Day O'Connor, Sheryl Sandberg, Simone De Beauvoir, Stacey Cunningham, Susan B. Anthony, Taylor Swift, Valentina Tereshkova, Virginia Woolf, Wangari Maathai​​
About Kristin Simmons Art
Born in 1989 in New York City, Kristin Simmons is a painter, printmaker, and silkscreen artist with a BA in Studio Art and Art History from Columbia University. She is the recipient of several prestigious awards including the Orra White Hitchcock and National Endowment of the Arts Award. Her work can be found on her website www.kristinsimmonsart.com or on her Instagram @kristinsimmonsart.
About The SDG5 Global Alliance
Born out of the Decade Of Women initiative launched at the United Nations, The SDG 5 Global Alliance is a non-organizational, omniwin movement lifting the work of a wide range of SDG5 leaders and causes, with donations administered through The SDG Impact Fund. It has no staff and is directed by a team of pro bono co-chairs each year in an effort to lift inspirational and aspirational activations supporting the empowerment of women and girls (together with men and boys who share the vision) all around the world. www.sdg5.global
About 5th Element Group PBC
5th Element Group PBC is a global impact accelerator that drives performance using frontier tech and innovation best practices to advance the common good. Our mission is to serve impact donors, investors and brands through six practice areas which integrate traditional and innovative impact strategies to facilitate "omniwin" value exchanges. For more information, visit www.5thelement.group.
About The Family Office Impact Summit at the United Nations
The 2019 UN Family Office Impact Summit at the United Nations is a private gathering of 300 Family Office, ESG, Impact, and Climate Change Experts to discuss the relationship between private capital and positive social change. Attendance is for Family Office Members only. For more information, visit www.sdgfamilyoffice.org.
Source: 5th Element Group PBC
Tags