Scrooge McDuck Silver Coins Are What 2018 is All About
Press Release
-
updated: Apr 20, 2018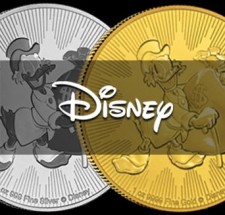 NEW YORK, April 20, 2018 (Newswire.com) - Scrooge McDuck has been an iconic Disney character since he was conceived of by Carl Banks in 1947. Scrooge is the uncle of Donald Duck but is more widely known by being the great-uncle to Huey, Dewey, and Louie in DuckTales which premiered in 1987 but has recently been rebooted in 2017 for its 30th anniversary. Many Millennials who grew up watching these cartoons now see their children do the same. Scrooge has been the central character of his comic books which have continued to run from 1947 until today.
"I made my money on the seas, and in the mines, and in the cattle wars of the old frontier! I made it by being tougher than the toughies and smarter than the smarties!" - Scrooge McDuck
Scrooge is a miser who is considered to be the wealthiest person in the world in the fictional Disney Universe. He takes on the characteristics of the anti-hero from Charles Dickens' Christmas Carol but displays positive qualities and usually accomplishes righteous tasks through his adventures. An iconic image of Scrooge has him depicted diving into piles of gold.
The New Zealand Mint has produced Gold and Silver Niue Scrooge McDuck coins. The silver coins come in a BU finish and weigh one troy ounce of .999 fine silver. They have a $2 denomination and will only have a mintage of 250,000. The gold version or this coin has a face value of $250 and will weigh 1 troy ounce of .9999 fine gold, only 25,000 of these will be minted. These coins feature an image of Scrooge McDuck holding a big bag of money on the reverse of the coin while the obverse side features the profile portrait of Her Majesty Queen Elizabeth II by the British sculptor Ian Rank-Broadley.
Aside from Niue, the New Zealand mint has been producing gold and silver products to other Pacific nations like Fiji, the Cook Islands, and Tuvalu.
The Scrooge McDuck silver and gold coins join Niue's other Disney-themed coins that feature other favorite Disney characters like Mickey and Minnie Mouse, Donald Duck, Pluto, and a host of other characters. These coins are official tender of the tiny island nation of Niue in the south Pacific ocean.
Bullion Exchanges is proud to carry this coin as well as all other Niue coins. Get yours today while supplies last. Individual silver coins will come in protective packaging flips while lots of 25 will be delivered in mint-issued protective plastic tubes and lots with 250 coins will arrive in Disney-themed monster boxes. Gold coins will be sold individually encapsulated in a protective plastic packaging.
Source: Bullion Exchanges
Share:
---
Categories: Cartoons
Tags: 2018, new zealand mint, niue, scrooge mcduck, silver coins
---