Screen Legend Robert Patrick on THE RED BOOTH This Saturday Night!
Press Release
•
updated: Oct 31, 2018
Samera Entertainment and Druid Pictures are proud to present Robert Patrick on THE RED BOOTH with Kimberly Q!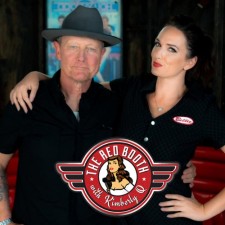 LOS ANGELES, October 31, 2018 (Newswire.com) - This weekend, the T-1000 himself, Robert Patrick sits with pinup style hostess Kimberly Q to talk TERMINATOR, SONS OF ANARCHY, MAYANS M.C., and Harley Davidson. Robert will share some amazing history about the Motorcycle Club, of which he is the West Coast Chairman. He also dishes about getting his very own Harley Davidson dealership.
Robert Patrick's been a cultural fixture ever since he played one of the most fearsome villains in cinema history in TERMINATOR 2: JUDGMENT DAY. For almost thirty years, he's made his mark as one of the best character actors working today with over 150 roles to his credit, including starring turns on THE X-FILES, SCORPION, THE UNIT, TRUE BLOOD, and FROM DUSK TILL DAWN: THE SERIES. He's also guest starred in such shows as THE SOPRANOS, LAW & ORDER SVU, and SONS OF ANARCHY. He also reprises his SONS role in the new SOA spin-off MAYANS M.C. which is currently airing its first season on FX with a second season already on order, so be sure to check it out.
While Robert Patrick is a prolific actor, he holds a true passion for motorcycling. He is the West Coast Chairman and Charter holder of Chapter 101 of the historic Boozefighters MC, which puts on many charity events for veterans and more. He is also the new co-owner of the Harley Davidson of Santa Clarita, giving his passion for riding more resonance than ever before.
Don't miss the legendary Robert Patrick on THE RED BOOTH this Saturday, Nov. 3 at 9 p.m. PST / 12 EST on YouToo America, the national cable network broadcasting across the US to 417 cities and counting.
About THE RED BOOTH:
THE RED BOOTH is a nationally broadcast talk show that airs every Saturday night on Youtoo America via Charter, Time Warner Cable, Comcast and more. The show can also be streamed via Apple TV, Roku, Amazon Prime, and YouTube. Created and produced by pinup style host Kimberly Quigley. She interviews entertainment industry professionals such as actors, directors, singers, musicians and more. With over 200 episodes to its credit and a fun Vintage Americana flair, it's a peek into the stories of many well-known and up and coming talents in Film, TV, Music and more.
Press Written by Nick Murphy / Samera Entertainment
Source: Samera Entertainment
Related Media
Tags