Scott Cruz Featured in Splash Magazine as Bottom Feeders Single Gains Traction
​Scott Cruz Continues to Write, Produce and Release Hit Music and Make News.
Press Release
-
updated: Apr 12, 2017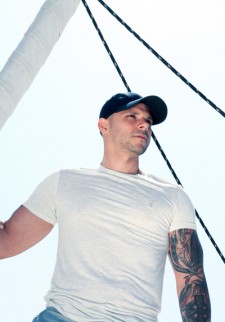 Los Angeles, CA, April 12, 2017 (Newswire.com) - Scott Cruz continues to record, produce and release hit music and make news. Scott was recently profiled in Splash Magazine as a featured "New Faces" to watch with the story headlined, "Scott Cruz: From Kid Actor Extra in 'Coming To America' to Extraordinaire Musician." His single, "Bottom Feeders" is gaining traction.
"Cruz, an Aquarius, was born in Staten Island, New York on February 2nd. That will explain a lot. At the age of 6 he moved with his family to more of a country-like location in a town called Howell, New Jersey, by the age of 12 moved to Boca Raton, Florida. For Scott growing up, multiple relocation moves were as horrible as they sound. By the age of 20, Cruz decided it was time to get the "H" out of Florida and move to a location that was more serving to those with artist expressions which obviously brought him to L.A. where he has been residing ever since."
"Cruz got his first Fischer Price piano at the early age of 5 years old. With its distorted tones, whip sounding loop beats and a mic input, this 5 year old was going to town! Always in-tune (as he so remembers it), un intended, to things of the music construct. By the age of 8 he was finally allowed to play the family's living room Casio keyboard. "Ohhhh! My mom used to play "A time for us" from Romeo and Juliet on the keyboard with sheet music. I would always hear the melody and so when I would sit down and play, I would try to play the song. My mom would come over and ask "Scott, how did you learn how to play that?" I replied, "I remember hearing it and just knew where to find the keys." At that moment, Scott says "my parents and I knew I was developing an ear for music. I would always create my own melodies and arrangements on the Casio keyboard. As I got older, I would get leads in school musicals and church. I also was acknowledged at many singing competitions". In 1998 Scott attended a Magnet High School in Florida for musical theater and acting where he first began to put lyrics and music arranging together and rigging his own set up to tape and record songs.  His first success in professional acting came when he was just a kid,  landing the part as an Extra in the movie, Coming to America. 'I'm in the back... behind Eddie,' he jokes." - (Gisele Ozeri of Splash Magazine)
Watch for Scott on television as he guests on morning and evening TV talk shows. You can see Scott demonstrate his unique psychic medium abilities and spiritual counseling skills on Real Housewives of Orange County with Tamra Judge.
Scott Cruz is now promoting his exceptional track, "Bottom Feeders."
https://www.facebook.com/ScottCruzOfficial/
https://itunes.apple.com/us/album/bottom-feeders-single/id524377818
www.twitter.com/thescottcruz - www.instagram.com/thescottcruz
http://www.scottcruz.com/singer.html http://www.imdb.com/name/nm3396461/
https://itunes.apple.com/us/album/bottom-feeders-single/id524377818
https://open.spotify.com/album/1skXhDBCd4u4wrHdH6PJci
Photo Credit: Gisele Ozeri
Source: Scott Cruz
Share:
---
Categories: A&E News, Celebrities, Music, Radio, Television Programs, Radio Programs
Tags: Bottom Feeders, Real Housewives of Orange County, Scott Cruz, Scott Cruz psychic, Tamra Judge
---