Scoliosis Reversed by REACT Physical Therapy With Non-Invasive, No-Brace Treatment: The Reavy Method
June is National Scoliosis Awareness Month
Press Release
-
updated: May 10, 2017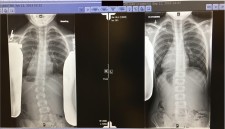 Chicago, IL, May 10, 2017 (Newswire.com) - REACT, the only Physical Therapy center in the world that uses the patent-pending Reavy Method, has employed their proprietary treatment methods to correct the scoliosis of a then-10-year-old child (now 12 years old) from Chicago, a total of 16 degrees in 1.5 years with no assistance from a back brace or surgery. To date, this is the first recorded case of reversing scoliosis so drastically with the Reavy Method and is recognized by John F. Sarwark, MD, Head of Orthopaedic Surgery and Sports Medicine at Ann & Robert H. Lurie Children's Hospital of Chicago, where Killian is treated.
"I am pleased to see such remarkable improvement of scoliosis over the years by only using physical therapy with Killian. All cases of scoliosis are unique and we must properly evaluate the method of physical therapy used when treating scoliosis with physical therapy. In Killian's case, working with David Reavy was life-changing, as his team was able to help shift and ultimately reverse her scoliosis," said John F. Sarwark, MD, Division Head of Orthopaedic Surgery and Sports Medicine at Ann & Robert H. Lurie Children's Hospital of Chicago.
Scoliosis is a musculoskeletal disorder in which there is a sideways curvature of the spine or backbone. According to the National Scoliosis Foundation (NFS), it is estimated 2-3% of the population, or an estimated 7 million people in the United States, are suffering from scoliosis. Most children are diagnosed between the ages of 10 and 15. Girls are eight times more likely than boys to have a curve that will progress leading to treatment. Typically, the average treatment used for reversal is a back-brace, or surgery. 
Scoliosis is common in children with a variety of congenital and neuromuscular diseases, but it is most prevalent in seemingly healthy children, with no known cause (idiopathic).
Although braces today are more comfortable than historically speaking, REACT Physical Therapy founder and CEO David Reavy believes there are many cases that can be reversed by applying the approach used in his patent-pending Reavy Method. 
"Our clients are often surprised that rather than focusing only on the site of the scoliosis, we treat the cause and the symptoms of pain," says REACT founder David Reavy. "Traditional methods of treatment may focus exclusively on the spine. With scoliosis, clinically I see misalignments in the pelvis. Since the spine sits on top of the pelvis, if that is out of alignment, the spine is sitting on an imbalanced foundation. By putting the pelvis back into alignment, we set the foundation for the spine to straighten. Then we went to work on the muscles that had been affected by the foundation misalignment."
Treating the child's body as a whole allowed REACT to reverse her scoliosis in 1.5 years through their unique approach to physical therapy and a series of exercises performed at REACT, all without the use of an uncomfortable and unsightly brace or serious surgery. It is important to understand that every scoliosis case is different and parents and patients need to know surgery and braces are not the ONLY answers for success. With Killian's case, Physical Therapy was the answer for her impressive improvement.
About REACT PHYSICAL THERAPY
Physical Therapist David Reavy founded REACT in 2012 in Chicago, IL. REACT's services include all areas of Physical Therapy, Performance Therapy, Athlete Training, Massage Therapy, and Body Engineering. With four Chicagoland locations, REACT Physical Therapists are setting a new normal for PT. Rather than focus on only the site of the injury, they treat all of you. David Reavy is a regular columnist for Men's Journal Magazine, and the REACT team has been featured in U.S. News and World Report, Runners World, HEALTH Magazine, SELF Magazine, Sports Illustrated Magazine, Prevention and Oprah Magazine, among many others. For more information, visit www.bereact.com
PRESS CONTACT: Laura Fitzgerald, 800-787-5834 or Laura@LiFt-pr.com
Source: Ann & Robert H. Lurie Children's Hospital
Share:
---
Categories: Healthcare, Healthcare and Medical News, Child Sports, Sports Medicine
Tags: Chicago, health, kids, medicine, orthopedic, recovery, scoliosis, sports
---