Scholarships Awarded for Unparalleled Food Program Training
National CACFP Sponsors Association Awards Scholarships
Press Release
-
updated: Apr 11, 2019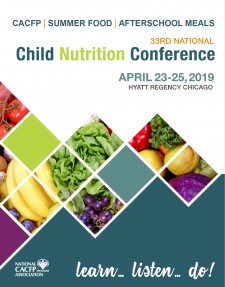 AUSTIN, Texas, April 11, 2019 (Newswire.com) - Meet Melody Elliott from Virginia, Faith Cox from Oregon and Tonja Wright from Louisiana. What do they have in common? They will be attending the National CACFP Sponsors Association annual National Child Nutrition Conference in Chicago, Illinois, this April as one of 15 scholarship recipients. They will join over 1,600 members of the child nutrition programs community for three days of professional development to help ensure that children across our nation have access to healthy foods in child care, after school and in summer. Brandon Lipps, administrator for USDA Food and Nutrition Service, will keynote the event where attendees will choose from over 150 workshops and training programs, network with colleagues from across the country, attend off-site excursions, participate in round table discussions with colleagues from their region and be able to visit with more than 50 exhibitors. The take home? Ideas, resources and information to provide better programming and nutrition education for the organizations they serve in the Child and Adult Care Food Program and Summer Food Service Program.
For 33 years, the National CACFP Sponsors Association has offered this conference as an unparalleled training, education and networking opportunity specific to the child nutrition community. Showing a strong dedication to continual improvement through professional development, we are honored to welcome the following CACFP participants and scholarship recipients: Melody Elliott, Child Care Resources Inc., Richmond, Virginia; Jami Lee, Tri-Valley Opportunity Council Inc., Crookston, Minnesota; Christina Flythe, Child Care Council of Suffolk Inc., Commack, New York; Shelby Beverly, Georgia Nutritional Services Inc., Conyers, Georgia; Lisa Laclede, ChildCare Group, Dallas, Texas; Linda Brehm, Northwest Nutritional Service, Milwaukie, Oregon; Jenny Wallinger, Family Service, Lincoln, Nebraska; Tonja Wright, House of Tiny Steps, Loranger, Louisiana; Linda Webster, St. James R-1 School District, St. James, Missouri; Elizabeth Rhine-Egelhoff, The Food Depot, Santa Fe, New Mexico; Faith Cox, Southern Oregon Head Start, Central Point, Oregon; Kristall Davis, Little Blessings Childcare, Champlin, Minnesota; Jeni Hoover, Kendal Early Learning Center, Oberlin, Ohio; Kendra Burton, Newark Public Schools, Newark, New Jersey; and Danni Katchia, Warm Springs Head Start Program, Warm Springs, Oregon.
Since 1986, the NCA is the leading national organization for sponsors who administer the USDA Child and Adult Care Food Program (CACFP). We provide education and support to thousands of members in the CACFP community and to sponsors of all sizes from across the country. We strive to improve communication between families, caregivers, sponsors and their supervising government agencies.
Source: National CACFP Sponsors Association
---
Categories: Dieticians and Nutritionists
Tags: annual conference, At-Risk Afterschool, CACFP, children, eldercare, nutrition, pre-school, school nutrition, SFSP, USDA
---