Scepter Inc. Improves Production and Safety With High-Ambient Industrial Lighting System Renovation
CandleRay Lighting Company and the Tennessee Valley Authority team up with Scepter Ingot Casting to achieve massive energy savings, improved light levels, and increased uptime for the demanding industrial facilities.
Press Release
-
updated: Jun 13, 2017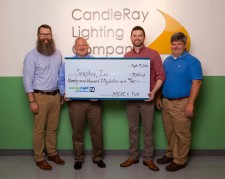 Nashville, Tennessee, June 9, 2017 (Newswire.com) - ​​​​​Scepter, Inc., the Southeast's leading industrial ingot manufacturer and aluminum recycler, partnered with CandleRay Lighting Company and the Tennessee Valley Authority (TVA) for a full-scale lighting renovation to reduce their Waverly, Tennessee, annual electricity consumption by about 150 kilowatts. In addition to the $95,000 in new annual energy savings, the TVA EnergyRight® Solutions for Business & Industry program and Meriwether Lewis Electric Cooperative (MLEC) helped fund Scepter's energy measures with an incentive check for nearly $100,000. The completed project paid for itself within five (5) months.
"Increasing the light levels was a priority for our plant. We wanted to ensure employee safety and make their jobs easier. We also wanted to decrease the maintenance demand. We were spending too much time conducting repairs and replacing components on the old system."
-Chris Nicholas, Plant Manager 
CandleRay Lighting Company conducted detailed site surveys, energy analysis, lighting design, photometric plans, and equipment specifications for the demanding, high-temperature and 480 volt industrial lighting system.  Numerous on-site evaluations and employee interviews led to a detailed lighting plan with specific goals, resulting in a highly successful project.
"This was a complex project involving extreme conditions, significant safety concerns, and a tight schedule. We are excited that Scepter will see a tremendous return on their investment and the employees will gain increased visibility and safety. Additionally, Scepter significantly reduced their carbon footprint," says Clay Wraith, CandleRay Lighting's Chief Operations Officer.
Customer satisfaction is at the center of CandleRay Lighting's business philosophy, and CandleRay team members work in close collaboration with clients and energy partners to ensure the most advantageous plan for each project. Ultimately, if a large-scale lighting project is successful, it will have benefits that go beyond the facility. Modernizing Scepter's lighting system resulted in a massive reduction in Scepter's load demand from MLEC and the TVA. 
About CandleRay Lighting Company 
CandleRay Lighting Company designs and implements advanced, energy-efficient lighting and control systems for a wide range of construction projects.  CandleRay's unique model ensures the most inspiring visual environments, equipment functionality, and return-on-investment, for each project and for every client.  CandleRay is dedicated to integrity and customer satisfaction with a proven track record of successful, full-scale lighting projects. As a preferred provider for various energy and utility programs across the country, CandleRay Lighting is a leading advocate of effective design practice and proper implementation.  For more information, visit www.candleray.com.
About Scepter Inc.
Scepter Inc.® is a secondary aluminum recycling and trading company that has been producing superior products and servicing customers for over twenty-five years. Scepter buys, sells, and trades all grades of aluminum and provides various services including aluminum scrap and dross processing into remelt-scrap-ingot (RSI), sows, de-ox cones, specification ingot, rod and/or molten metal. Scepter differentiates themselves through the innovative use and application of state-of-the-art technology, advanced facilities, and employing some of the industry's best talent. For more information, visit www.scepterinc.com
About the Tennessee Valley Authority
The Tennessee Valley Authority is a corporate agency of the United States that provides electricity for business customers and local power distributors serving 9 million people in parts of seven southeastern states. TVA receives no taxpayer funding, deriving virtually all of its revenues from sales of electricity. In addition to operating and investing its revenues in its electric system, TVA provides flood control, navigation and land management for the Tennessee River system and assists local power companies and state and local governments with economic development and job creation. For more information, visit www.tva.gov
About Meriwether Lewis Electric Cooperative
Meriwether Lewis Electric Cooperative, your trusted source for safe, low-cost, reliable electricity, is non-profit and member-owned, providing more than energy to the over 33,500 members we serve in Hickman, Houston, Humphreys, Lewis and Perry counties. For more information, visit www.mlec.com
Source: CandleRay Lighting Company
Share:
---
Categories: Energy, Architecture and Design, Metals, Production and Manufacturing
Tags: Architectural Lighting, Energy, industrial controls, Industrial lighting, Lighting Consultant Nashville, Manufacturing, Production, Tennessee Lighting Design
---