Savings on Prescriptions May Offer Other Choices, Thanks to Financial Education Benefits Center
Press Release
-
updated: May 24, 2018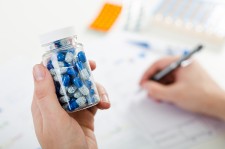 SAN RAMON, Calif., May 24, 2018 (Newswire.com) - Prescriptions of all kinds are filled out every day for different people, but they can be expensive. Pain relief, hormonal treatment, allergy medication and prescriptions for relief from various disorders are available once prescribed based upon a person's individual needs. If an individual requires that more than one prescription filled or needs a specific brand of medication, the price can jump up further. Financial Education Benefits Center (FEBC), a health and wellness benefits company, believes that everyone should be able to have easy access to prescribed medicines and offers access to third-party discounts on certain prescriptions for its members.
"Prescriptions help people maintain their day-to-day lives. But like many medicines, they have the issue of getting to be expensive. It doesn't help that not every medicine can be used by every person," commented Jennifer Martinez, manager at FEBC. Due to an individual's different biological structure, they may not be able to buy off-brand medicines. On top of that, each individual may have a different insurance policy and not every policy is favorable towards the cost of prescription refills."
Different options for different people get prioritized as necessities. Sometimes due to costs, prescriptions can be further down on that list or other bits of people's lives may have to be left aside to make room for their needed prescriptions. FEBC believes that nobody should have to choose between prescriptions or something else. With access to discounts on certain prescriptions, FEBC is doing what it can to help others be able to better afford what they need. That way, a higher quality of life is achieved, for less money and struggle.
"There shouldn't have to be a choice made between getting medicine that someone needs and something else just as necessary. We're just doing our part to make that possible by offering prescription discounts in our suite of health and wellness benefits," said Martinez. FEBC members should note that any benefits from FEBC are not insurance and not intended to replace insurance.
About Financial Education Benefits Center
Financial Education Benefits Center is located in San Ramon, California. The membership company has already helped thousands save money and obtain the necessary education required to live a financially healthy life.
Financial Education Benefits Center has partnered with several name brand third-party companies to expand the financial and educational products and services available to its members and to provide a variety of wellness services as well.
Financial Education Benefits Center Newsroom
Contact
To learn more about Financial Education Benefits Center, please contact:
Financial Education Benefits Center
2010 Crow Canyon Place Ste. 100
San Ramon, CA 94583
1-800-953-1388
info@febcp.com
Source: Financial Education Benefits Center
Share:
---
Categories: Active and Healthy Living, Healthcare
Tags: Health and wellness, healthy living, life style, prescription
---