FEBC: Rising Costs of Insulin Related to Rising Rates of Diabetes-Related Deaths
Press Release
-
updated: Nov 30, 2018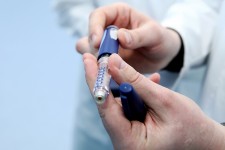 SAN RAMON, Calif., November 30, 2018 (Newswire.com) - Affording medical treatment is sometimes right up there with affording college: nearly impossible for the average person, and potentially financially haunting. Drowning in medical bills is an all too common story that has taken an even darker twist. Financial Education Benefits Center (FEBC), a membership benefits company, says that the ever-growing costs of medical expenses are going to lead to further complications, physical for many, and economical for the rest.
Rising costs of insulin have become not just a financial struggle but a life-threatening problem. Recently, a grieving family delivered a vial of their deceased son's ashes to an office of a pharmaceutical company, one of the three major companies that make insulin. The young man, Alec Smith, just 26 years old, had recently phased out of the age where he could remain on his parents' insurance and received his much-needed medication at a covered cost. After a mere 27 days of being off of his parents' insurance, unable to realistically afford his own insurance from the market, he decided he would pay out of pocket for his insulin costs. His mother said it was likely that he did not realize how expensive it was going to be. Because of that, he attempted to ration out his insulin and died as a result, three days before payday when he could attempt to buy more.
Diabetes is one of the most common types of illnesses, with 9.4 percent of the population having the disease that America faces at large, and supposedly one of the most easily managed. Most people who don't have it would likely consider it a non-issue since it's often dealt with through diet and exercise or a moderately easy administration of medicine. "When costs for insulin are in the hundreds and only continues to skyrocket, there's nothing easy about managing diabetes, especially when it can't be managed by diet and exercise alone," said Jennifer Martinez, manager at FEBC.
For many people with incurable diseases and disabilities that require frequent care, times are incredibly tough and there doesn't seem to be a light at the end of this tunnel. FEBC members may have access to discounts on prescriptions and access to a non-emergency 24-hour medical hotline, which may help them figure out tough long-term situations. This benefit is not meant to replace or act as insurance. There needs to be some sort of reform for how healthcare is handled in America, but for many people, it is already too late. "Affording medication and health care is a struggle for many. We care about our clients, and that's why we strive to offer discounts relevant to their personal wellness needs," said Martinez.
About Financial Education Benefits Center
Financial Education Benefits Center is located in San Ramon, California. The membership company has already helped thousands save money and obtain the necessary education required to live a financially healthy life.
Financial Education Benefits Center has partnered with several name brand third-party companies to expand the financial and educational products and services available to its members and to provide a variety of wellness services as well.
Financial Education Benefits Center Newsroom
Contact
To learn more about Financial Education Benefits Center, please contact:
Financial Education Benefits Center
2010 Crow Canyon Place Ste. 100
San Ramon, CA 94583
1-800-953-1388
info@febcp.com
Source: Financial Education Benefits Center
Share:
---
Categories: Active and Healthy Living
Tags: death, diabetes, health and wellness, insulin, medicine, membership benefits, price hike
---