Savannah Crayon Nominated to Attend the Forbes Under 30 Global Summit
Savannah Crayon Founded Sun Hire in April of 2017, with an extensive history in fitness and nutrition, she is paving the way for a new path in the business to business fitness industry.
Press Release
-
updated: May 3, 2018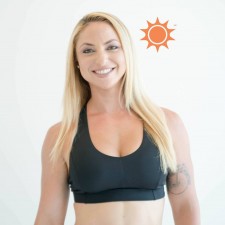 Pompano Beach, Florida, April 18, 2018 (Newswire.com) - Savannah Crayon, founder of Sun Hire Wellness, was nominated to attend the invite-only Forbes Under 30 Global Summit in Israel this May. Sun Hire's goal has always been about making people fall in love with the two places that they spend most of their time, work and home. Starting one year ago, Sun Hire already signed a fortune 500 company, among other accounts. Sun Hire serves businesses and communities of all sizes with fitness programs starting as low as $700/month, regardless of participation and can be implemented in as little as one week.
"Our programs consist of group fitness, personal training and educational seminars. I like to bring in professional athletes, medical professionals, and sometimes I'll even come in and speak at our seminars. We cater our seminars with healthy meals that are locally sourced through organizations I work with throughout our south Florida community.", Savannah states.
Press releases for the Forbes Under 30 Global Summit deem:  "...the Under 30 Global will bring together roughly 800 of the best young entrepreneurs from all these areas – 200 each from the U.S., Europe and Asia, respectively, as well as 200 from the Middle East and Africa, culled from Forbes' 30 Under 30 lists around the planet. "We're thrilled to pull the best of the best young entrepreneurs and gamechangers from Asia, Europe, the U.S, Africa and the Middle East," said Randall Lane, editor of Forbes. "This summit represents a true crossroads, a meeting of people who will help run every field in every country for the next half-century."
Savannah is honored to be grouped into this category, only months after beginning her pursuit, and is thrilled and humbled to represent the game-changers in her field.
Email: getfit@sunhirewellness.com
​Web: onlinefitweightloss.com
Source: Sun Hire Wellness
Share:
---
Categories: Entrepreneurship
Tags: broward county, broward health, corporate wellness, fitness, group fitness, nutrition, online fitness program, online training, savannah crayon, sun hire, sunfitforlife, wellness
---