SAP PRESS Publishes First Book on Logistics With SAP S/4HANA
Press Release
•
updated: Oct 30, 2017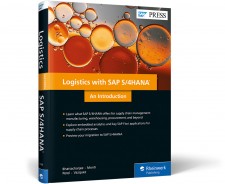 Quincy, Massachusetts, October 26, 2017 (Newswire.com) - SAP PRESS today published the first-ever book on logistics and SAP S/4HANA. Entitled Logistics with SAP S/4HANA: An Introduction, it serves as the starting point for anyone interested in the future of SAP's logistics portfolio in an increasingly digital world.
The book was written by a team of four SAP experts from Deloitte Consulting LLP—Deb Bhattacharjee, Eric Monti, Stephen Perel, and Guillermo Vazquez​. Together, the four authors combined their individual expertise to create this resource. "As organizations across industries continue to innovate their business models, SAP has continued to innovate on the technology front," Bhattacharjee, who is a worldwide thought leader on supply chain strategy and planning, said. "But many executives struggle when it comes to aligning new technology capabilities with new business processes—especially in the extended supply chain space."
The book was written to help ease those struggles. "This new publication gives industry leaders more than an overview of SAP S/4HANA's logistics features," Monti said. "It offers them a view into the possibilities for radically improving operational efficiencies, enhancing user experience, and seamlessly integrating disparate solutions. The book offers readers a solid starting point for exploring the potential results they can deliver—thanks to a fundamentally new platform that combines in-memory computing and a modern digital core ERP."
Readers can expect a full overview to the solution, from procurement to production and everything in between. The book includes information about key functionalities and innovations, and how to navigate through redesigned processes. It is not only SAP PRESS' first full-length title covering logistics with SAP S/4HANA, but it's also the only book of its kind on the market. The book also includes sections on:
Sourcing and procurement
Inventory management
Warehouse management
Inbound and outbound logistics
Manufacturing operations
Plant maintenance
Quality management
SAP Fiori applications
Implementation and migration
The book is available in print, electronic, and bundled editions and can be purchased via the SAP PRESS website and Amazon.com.
About SAP PRESS
SAP PRESS was founded in Bonn, Germany in 1999 as part of a joint venture between Rheinwerk Publishing and SAP. Today, it is the world's leading publisher on SAP topics, providing comprehensive book and e-book products on SAP topics for beginners and experts; SAP users and consultants; developers, administrators, and IT managers. For more information, please visit http://www.sap-press.com.
Contact
To learn more about SAP PRESS' SAP S/4HANA books, please contact:
Aja Walkes, Marketing Manager
2 Heritage Dr. Suite 305
Quincy, MA 02171
Office: (781) 228-5070 Ext. 210
ajaw@rheinwerk-publishing.com
Source: SAP PRESS